Travel in Style AND Protect Your Identity with these VPNs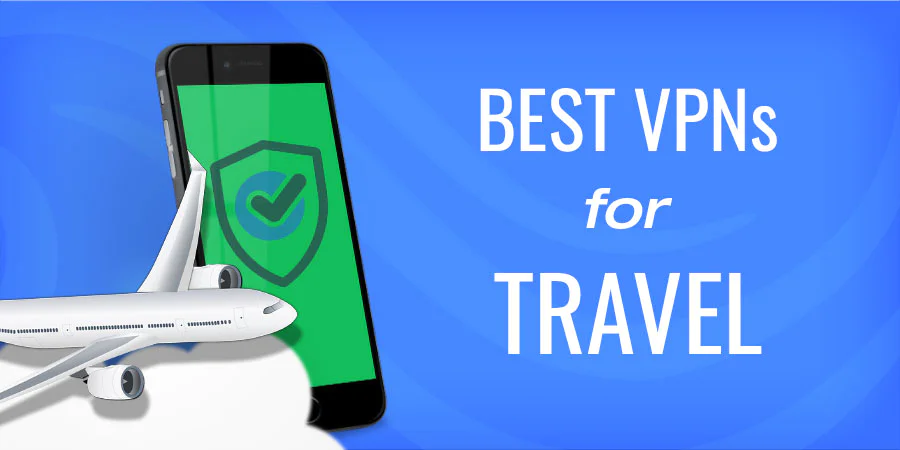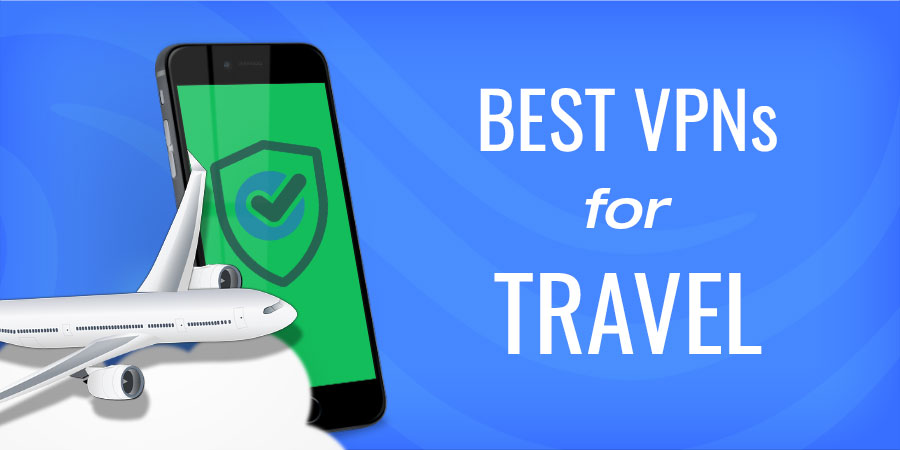 What are the best VPNs to take with you while traveling? Whether you're getting ready to travel or are already at your destination, a VPN can help keep your personal information safe and secure. Most importantly, critical personal details from your passport, driver's license and bank account are usually more at risk while you're away… mostly because typical security measures like a strong firewall and private WiFi are just not always possible.
That's where a VPN can really help — it'll put all your internet activity behind a firewall that travels with you and anonymizes your IP. But not all VPNs are suited for the extra demands of travel. In this article, we'll rank the top VPNs to use while traveling domestically or abroad.
Three most important things to look for in a travel VPN
First off, let's touch on the most important factors to consider when choosing a VPN for your next trip:
Excellent privacy and security – you'd be surprised how many VPN services are relatively lax with privacy, especially the free or extremely low-cost ones. The trade-off for free is you typically allow the VPN to sell your surfing info/habits to 3rd parties. You're much better off spending a few bucks a month for a VPN that prioritizes privacy and anonymity.
Reliably fast speeds – in general, the better the VPN, the faster it is from anywhere. That is, whether you're down the road or halfway around the world, your usable speed while connected to a VPN should always be lightning fast and latency-free. The speed of your connection usually depends on the quality of the VPN's infrastructure (software, hardware, features, etc). Pick a VPN with validated above-average speeds, at the very least in the area you'll be visiting.
Large server network – related to speed, the number and location of servers across the state/country/hemisphere you're headed to matters a lot. Connecting to a server 50 miles away is MUCH faster than having to use one a few states or countries over. Be sure to pick a VPN with an above average number of servers. These days, that equates to at least 2,000 servers worldwide.
Our picks for the best VPNs to use while traveling
Ok, now that we know what we're looking for… we profiled the top VPNs out there and, for just travel-related purposes, narrowed the field down to three. They're listed below based on the factors that most people consider before choosing a VPN: overall best provider (cost is a factor but quality is more important), best budget provider, etc.
Best overall VPN for travel: NordVPN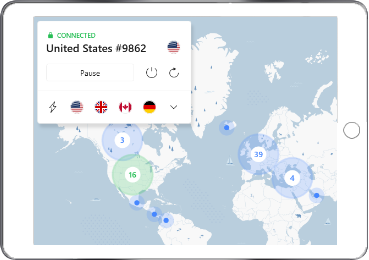 Established: 2012
HQ: Panama
Servers: 5,600 (USA: 1,970)
Travel-friendly? Yes
Deal: 60% off all plans
There's a reason NordVPN is one of the largest and still, fastest-growing VPN service out there. It's our top pick for travel, no matter where you're headed. They have proprietary privacy features, a ton of servers and are extremely fast, just about anywhere on Earth. They've also been around since 2012 and have a consistent track record in protecting and prioritizing customers' needs. They cost a couple more dollars per month compared to other budget-minded VPNs, but if privacy and speed are important to you while on the road, definitely consider NordVPN.
NordVPN's key features for travel (domestic or abroad)
Over 5,600 servers in 60 countries
Double VPN
Static IP
Traffic obfuscation
P2P
As far as server coverage goes, there's only a few VPN providers that rival NordVPN. 5,600+ servers is a ton. They're strategically spread out by country and continent based on demand and population density. Each server location also supports different feature sets. For example, most of their servers feature Double VPN (your connection hops across two servers, making it almost impossible for anyone to track you).
Most also allow peer-to-peer connections (P2P), meaning you can share files without issue or lag. A good percentage also support static IP, which lets you surf or connect via the same IP address, every time (helpful if you want websites to properly remember you). Roughly, here's how their server network breaks down geographically:
Country
# Servers
Features
U.S.
1,900
Double VPN, P2P, Obfuscated, Static IP
Germany
240
P2P, Obfuscated, Static IP
(no Double VPN)
Australia
175
P2P, Static IP
This is obviously not a comprehensive list, just a quick guide to the countries with the most coverage. Go here to view every NordVPN server in their network. That guide also breaks down the servers by feature and tech. Super helpful if you want to ensure there'll be a server nearby with your exact needs.
Pro tip: for folks in Europe or Asia, for fastest speeds, pick a server in your current country, closer the better.
Finally, regarding speed, one of NordVPN's best features is their NordLynx technology. It's a proprietary system that optimizes and boosts connection rates. It's active on every NordVPN server (no need to opt in) and really makes a big difference. In all our speed tests, NordVPN outperformed every other provider in connection speed, reliability (do you get disconnected), multiple streams, server load and more.
Pros
Fast speeds from anywhere in the world (very few exceptions)
Unblock the programming you want (eg, geotargeted shows on Hulu)
Unrivaled privacy and security
Identity protection even if disconnected
Best value VPN for travel: Surfshark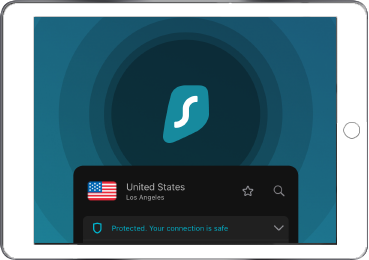 Established: 2018
HQ: Virgin Islands
Servers: 3,200 (USA: 600)
Travel-friendly? Yes
Deal: As low as $2.50/mo
If you want to save a couple bucks a month, SurfShark runs a close second to Nord. They don't have quite as many servers or all same same features, but the service works extremely well for most uses, including for travel. If you're going to be traveling to an exotic location, you'll want to make sure SurfShark has at least one server there. Otherwise, you're probably better off going with a different provider with a presence there.
SurfShark's key features for travel (domestic or abroad)
Over 3,200 servers in 100 countries
Private DNS
Camouflage Mode
OpenVPN
Extension support
Even though SurfShark has about half as many total servers as NordVPN, they actually have them in 100 countries. That's more than any other VPN service we've profiled (40 more than Nord). That's particularly great if you'll need access in multiple countries (backpacking through Europe, etc).
SurfShark has the most servers in Europe
Speaking of which, if you are headed to Europe and will be traveling around, SurfShark has servers in 66 more cities than NordVPN. Some of those new ones include Amsterdam, Barcelona, Istanbul, London, Madrid, Milan, Oslo, Rome, Turkey, Warsaw, Zurich, etc. So, SurfShark probably makes more sense for folks spending a lot of time in those cities, especially if you need higher speed access (you'll be closer to any given server).
Pros
Best mix of value and service
Most total countries in network
Very good security protocols
Solid customer service
Lowest-priced but still solid privacy: Atlas VPN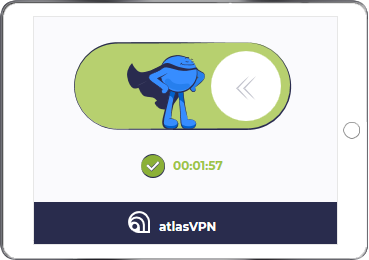 Established: 2019
HQ: New York
Servers: 750 (USA: 70+)
Travel-friendly? Yes
Deal: As low as $1.82/mo
The newcomer of this list, Atlas VPN does a bunch of stuff right, all at an excellent price. They're also the first of this group to offer a free VPN option. That's a great way to give the service and user interface a whirl but we recommend you don't use their free servers abroad or in public. There's just too many variables and unknowns, especially if you'll be transmitting sensitive information. That's not to say they're not secure, free access usually doesn't have as much redundancy and security layering in place.
Atlas VPN's key features for travel (domestic or abroad)
Over 750 servers in 49 countries
SafeSwap
SafeBrowse
MultiHop+
Split Tunneling
Not surprisingly (they're a relatively young company), Atlas has the lowest number of countries covered. Still, 49 isn't bad and just 11 less than NordVPN. Some of their top countries include: US, UK, Germany, France, Belgium, Italy, China, Canada, Australia, Portugal, South Africa, Turkey, UAE, etc. They're also pretty responsive to requests for new servers in growing cities/countries.
Feature-wise, here are some of the highlights:
SafeSwap – splits your actual IP into multiple anonymous IPs, making it nearly impossible to trace it back to your origin. It's enabled by default on all servers.
Split tunneling – whenever you do stuff on the internet that transmits critical information (purchases, bank logins, etc), Atlas's split tunneling further fragments the data making it extremely difficult to capture the necessary info to steal a card or ID.
MultiHop+ – similar to NordVPN's Double VPN feature, MultiHop+ bounces you off multiple servers in the network, giving you an extra layer of protection. It needs to be enabled manually and currently only available in North America and Europe. Definitely enable it when you're traveling.
Pros
Big savings with longer plans
Free VPN option
Above average security
30-day guarantee
Cons
Not available in some countries
Relatively young company
How to use a VPN to get better airfare and hotel deals
Did you know you can use a quality VPN to secure better prices for your flight and hotel? Both those industries routinely change the price you see on their websites based on your location. In particular, they're notorious for charging more the further your distance from the booked location. For example, if you're in New York and book a flight for Paris you're likely to pay at least 10% more than someone in Nice who reserved the exact same flight (yeah, shady practice but it's legal).
Here's exactly how to change your location to get a better price:
Choose a VPN provider (don't use free as most of their IPs are blocked/detected).
Install the VPN's app on your device or desktop (doesn't matter).
Clear your browser's cookies, either all of them but at least from the travel site you'll be using.
Close your browser and re-open it
Fire up your VPN and connect to the closest city to your destination
Confirm your location by going here
Once confirmed, head to the site and and check the new price. If it's not lower, that particular site may not have geo-based pricing. Try a couple other sites to compare and lock in your savings from the best option.
Will a free VPN work internationally?
As alluded to above, it will but we don't recommend it. While it's probably better than surfing without a VPN, most VPN providers don't provide or guarantee the same amount of protection and security on free servers. That's the main reason most don't offer free servers to begin with. Additionally, free VPN services tend to get abused all the time. So, if someone don't something nefarious on that same server a couple hours earlier and you use that same IP/server, doesn't look all that good. Could raise flags with certain websites especially if there's a history of abuse on a specific server.
If you're going to use a VPN while traveling or on vacation, it's worth the extra few bucks a month to get a reliable and secure connection.
Wrapping up
Traveling is a ton of fun. New adventures, long walks on the beach, local food. Ah, good times… The downside is that in almost every medium to big city there's a network of hackers just waiting to prey on tourists. They know it's tough to think about security when you're away from home and focused on budget, itinerary, nightlife, etc. A VPN is an easy way to protect every member of your family, during your entire trip. Almost all plans come with access for at least 5 users, most allow unlimited connections. So, plenty of ways to end your trip on a relaxing note, not having to cancel and replace a compromised card. Either way, be safe and have a great time!
FAQ
In general, you can use a VPN just about anywhere in the world but there are countries that ban usage. Some of those include China, Russian, Iran, Iraq, Turkey, UAE and Oman. You can still connect to servers in those countries but only high-quality VPN providers will have reliable connections.
Sure. Most VPN providers offer an unconditional guarantee (15-30 days). If you're not happy for whatever reason, reach out to them. In most cases, you'll get a full refund.
Nope! Depending on its settings, a router firewall can provide fair protection but it's really only a good solution for home/work use. When you're in public or traveling, a local router is almost never robust enough to fend off constant intrusion attempts. Only a high-quality VPN can completely shield and obfuscate your personal information.
About the author
^ back to top