Watch Hulu Without Restriction with a VPN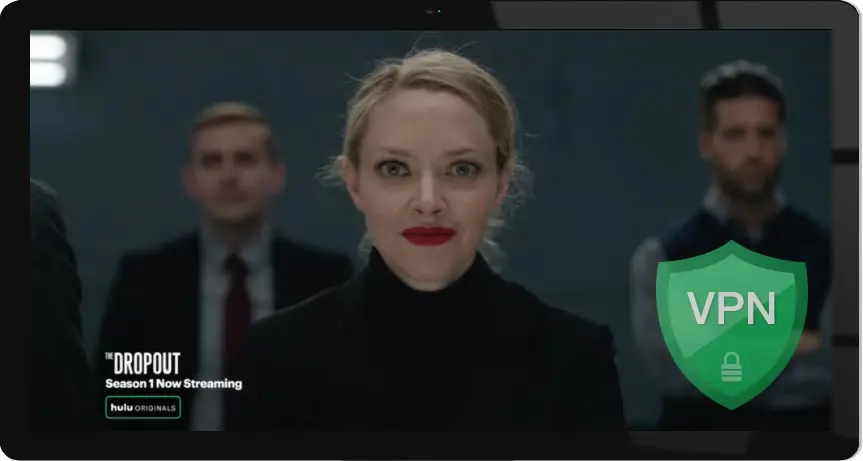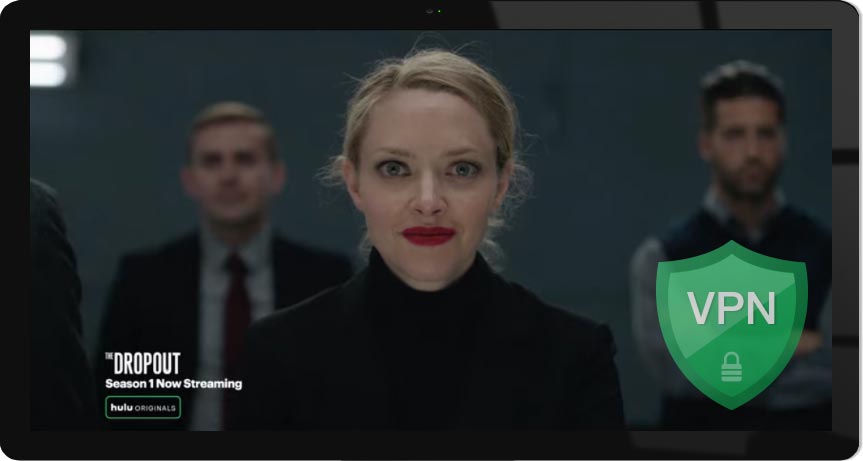 When you're looking to get access to geo-restricted programming on Hulu, your best bet is a VPN. They're not all the same, though, and Hulu has specific requirements. In this article, we'll review the best VPNs for Hulu and discuss how to get one setup.
A geo-blocked service like Hulu, by default, will only let you watch programming from your area (and Hulu only works from the U.S., Puerto Rico and Japan). So, if you're in another country, you'll need a VPN to watch it. If you're in the states, VPNs help you surf faster, protect your identity and even let you watch Japanese programming.
Benefits of using a VPN with Hulu
Unblock programming – when outside the country, either temporarily or more permanently, a VPN lets your connection appear to come from within the states, unlocking Hulu's programming
Better privacy – even if you're in the states, a good VPN will hide your identity, which is especially useful if you're at a coffee shop or any public wifi
Unthrottled speeds – if you a stream a lot, your ISP may throttle your IP to supposedly keep the network stable. Higher tier internet plans usually aren't affected. A quality VPN can mask your IP making it nearly impossible for your ISP to track you.
Not all VPNs are big or specialized enough to accomplish all the items above. Even more are likely to trigger a "proxy IP error" from Hulu when they figure out you're using a VPN (when that happens, you're blocked until you switch VPN servers or go with another provider). We've tested a bunch of VPNs with Hulu (on various devices and platforms) and below are our recommended providers.
Best overall VPN for Hulu: NordVPN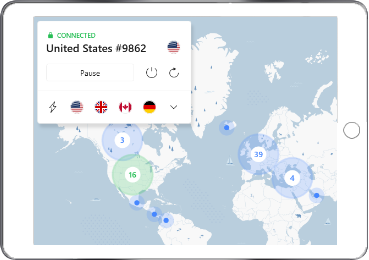 Established: 2012
HQ: Panama
Servers: 5,600 (USA: 1,970)
Unblocks Hulu? Yes
Deal: 60% off all plans
NordVPN protects your identity by routing traffic through one of their 5,600 servers worldwide. The encryption is handled by their proprietary NordLynx infrastructure, which is quite a bit faster than the more mainstream OpenVPN and IKEv2 tech. That means streaming high def on Hulu is faster than just about any other VPN provider out there.
With respect to privacy, NordVPN is right up there at the head of the pack as well. Along with the WireGuard-based NordLynx, NordVPN has been independently audited several times to comply with their no-log policy. That is, they don't track your surfing patterns, device info, locations, etc. Sounds like something that should be obvious for a VPN but you'd be surprised how many any of them covertly track stuff and then sell that aggregated user data to third parties. That sort of practice immediately disqualifies them from any of our recommended lists.
NordVPN's key features for Hulu
Over 5,600 Hulu-friendly servers
Industry-leading speed and privacy
Dedicated IP option
One of the big challenges with Hulu and VPNs are that grouped IP addresses eventually get barred. So, for example, if you're on a free or lower tier VPN, when Hulu ends up blocking the server's IP, you're cooked…sometimes for good. If so, you'll be greeted by the dreaded "proxy IP" error. With a top flight provider like NordVPN, if/when an IP gets blocked, they'll quickly refresh that IP to ensure uninterrupted usage. If it happens while you're watching, you can also easily switch to another NordVPN server. Finally, if you don't mind spending a few extra bucks, get a dedicated IP with NordVPN and you'll NEVER have to worry about getting blocked while watching Hulu.
Tip: If someone in your neighborhood is doing shady stuff, Hulu may also block your shared IP from your ISP. If so, call them up to switch you to a whitelisted IP.
Overall, you can probably tell we dig NordVPN… a lot. That all comes from trial and error with different VPNs on Hulu. Most work for a while but eventually don't have the infrastructure nor personnel to keep up with the specific demands of a popular and geo-restricting streaming service like Hulu. The only slight downside with NordVPN is their price. They're a bit more expensive than the rest but in our opinion, it's well worth the better speed, privacy and reliability..especially with Hulu.
Pros
Extremely fast anywhere in the world
No IP access issues with Hulu
Easy setup and app usage
30-day money back guarantee
Cons
A bit more expensive than others
Best value VPN for Hulu: Surfshark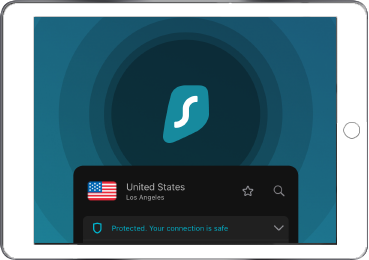 Established: 2018
HQ: Virgin Islands
Servers: 3,200 (USA: 600)
Unblocks Hulu? Yes
Deal: As low as $2.50/mo
After testing a bunch of value-packed VPNs with Hulu, Surfshark quickly rose to the top. They don't have as many features as NordVPN but they're about 30% less and still reliably get the job done with Hulu. More specifically, while Surfshark isn't quite as fast as NordVPN, there's no noticeable difference while streaming or searching for shows on Hulu. In terms of simultaneous connections, Surfshark comes out on top with an unlimited number of allowed connections (vs 6 for Nord). Admittedly, the difference isn't a huge deal unless you're in big household or 24/7 gaming blitz.
As far as server options go, Surfshark has a healthy 3,200 vs NordVPN's 5,600. Again, sort of an embarrassment of riches as they both provide plenty of options. In our testing, Surfshark's servers almost always worked with Hulu. Again, Hulu is pretty quick to block IPs that over-use the service. We seldomly came across those on Surfshark and when we did, the IPs were updated soon thereafter to work yet again.
Surfshark's key features for Hulu
Over 600 U.S. servers across 25 cities
Throttle-free streaming
As far as platform options go, the traditional five are covered: iOS, Android, Mac, Windows and Linux. In addition, Fire TV and Apple TV work without a hitch. Gamers should dig the fact that Surfshark works right out of the box with Xbox and Playstation. No setting or caching glitches you might've experienced in the past.
With regard to UI, all the respective apps are pretty easy to install and figure out. For example, the desktop program (screenshot below) installs in less than a minute and right off the bat, gives you an option to connect to the fastest location, search by city, static IP and more.
You might've noticed the MultiHop tab on the screenshot. It lets you obfuscate your IP even more by sending your traffic through two different IP changes before hitting your destination server (NordVPN has a similar feature). It usually involves a hop between two different countries so for Hulu, hopping from, for example, Canada to the US works well.
Overall, Surfshark is a good option for Hulu subscribers looking to save a bit of coin yet still reliably connect. You won't get all the bells and whistles but your privacy and surfing will always be thoroughly protected. If cost is a factor and you just want a VPN that works with Hulu, go with Surfshark.
Pros
Costs as low as $2.49/mo
Excellent Hulu reliability
Fast connection and streaming
Unlimited simultaneous apps/devices
30-day money back guarantee
Cons
Less server options than NordVPN
No dedicated IP option
Does a dedicated IP work better with Hulu?
It almost always does but it's not a necessity. If you're with a lower tier VPN, shared IP addresses often get blocked and sometimes stay that way. With the VPNs recommended here, shared is all you need (and will save you the cash from having to upgrade to a dedicated).
If you already have a dedicated IP or it doesn't cost any extra to get it, definitely use it. Hulu typically blocks an IP when a healthy number of folks are using it and/or a collective amount of streaming run time is hit. If you're on an IP all to yourself, you're almost guaranteed never to have a problem. So, just for peace of mind, a dedicated IP is nice to have.
Can I use a free VPN to watch Hulu from outside the U.S.?
For small stretches of time, it's possible but you'll almost always eventually get blocked. Free means a ton of other people will also be connected, so it's just a matter of time until access gets cut off. And not to mention the fact that free VPN providers need to offset their costs somehow. That typically involves tracking and selling user data – websites, time-of-use, location, etc.
Unless you absolutely can't afford a couple bucks a month for a reputable VPN, we don't recommend going the free route. Too much potential collateral damage (including viruses), all just to catch your favorite Hulu flick.
Wrapping up
Hulu is fan favorite for good reason. With a ton of original movies and shows and a huge library of on demand content, there's something for everyone. Toss in Hulu live and its access to local channels and live programming, there's a ton of entertainment value. As part of its licensing agreements to broadcast that content, Hulu is only allowed to show it to subscribers in the U.S, Puerto Rico (U.S. territory) and Japan. For everyone else, aside from jumping on a 747 to JFK, a VPN quickly and anonymously makes it look like you already landed.
As with most other internet and virtual services, you get what you pay for. In this case, excellent VPNs that reliably unblock Hulu run as low as a couple bucks a month. Most have money-back guarantees so we often recommend you sign up for Hulu under a trial (if possible) and see if your VPN works. If not, cancel both and nothing lost. If cost weighs on the decision, try Surfshark. Otherwise, we recommend NordVPN for hyper fast speeds and plenty of solid features.
About the author
^ back to top