Best VPNs to Watch Blacked Out MLB.tv Games in 2023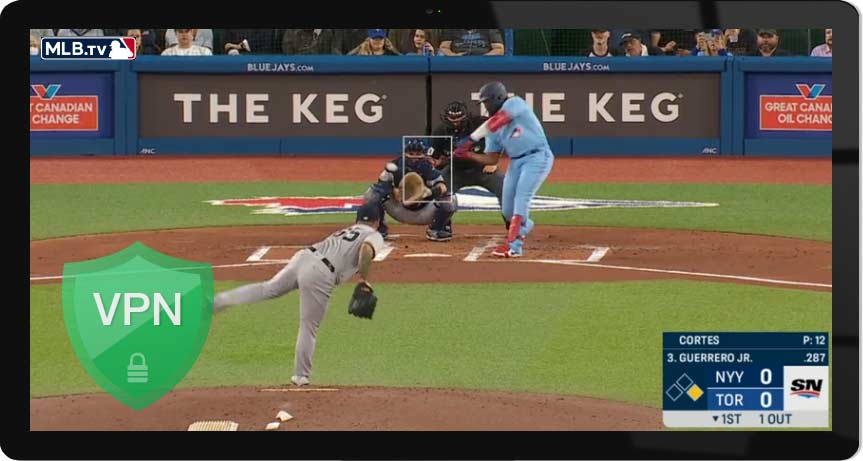 If you're looking for the best VPNs to watch local blacked out MLB.tv games, you've come to the right place. It's always frustrating when the big game is about to start, popcorn's ready, you tune to the channel aaand …it's blocked. Major League Baseball sells the exclusive rights to broadcast local games to one TV broadcaster in each market.  So, when you try to stream your local games on MLB.tv they'll block it to give preference to the local broadcaster and entice folks to head to the park.  Good news is you can get around the block with a solid VPN that updates your IP address to a server outside your area.   Most of them don't work all that well though.  Read on for the best VPNs to use with MLB.tv…
Best overall VPN for MLB.tv: NordVPN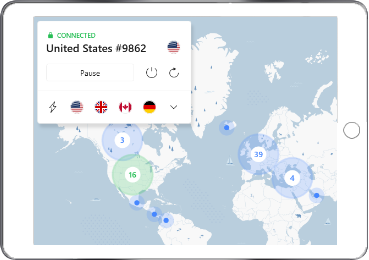 Established: 2012
HQ: Panama
Servers: 5,600 (USA: 1,970)
Unblocks MLB.tv? Yes (~100%)
Deal: 60% off all plans
We've tried just about every major VPN provider out there and hands down the best way to watch local games on MLB.tv is with NordVPN.  The most important factors are extremely high end (fast) servers and a responsive IP assignment team.  MLB.tv has been pretty quick to ban VPN IP addresses that over-use the service. Once banned, that server/IP is shot for future use.  Unless your VPN provider quickly replaces those IPs, their service soon becomes unusable for MLB.tv.  Over the past couple years, NordVPN has been the most access-reliable VPN provider for MLB.tv.  They're always on top of IP changes and I've never experienced any buffering on their servers (always helps to use one near or within your state).
NordVPN's key features for MLB.tv
Over 2,000 U.S. servers across 15 cities
NordLynx feature provides lightning fast speeds
Nordlynx is NordVPN's proprietary VPN protocol that lets it connect to your device at speeds and reliability not previously seen in the industry. Based on the super fast Wireguard protocol, NordVPN ingeniously added an extra level of privacy and security to the platform, letting you surf incredibly fast and anonymously. No small feat and when it launched, NordVPN called it "the most significant (VPN) technological improvement ever introduced." Not far from the truth. The feature really comes in handy with MLB.tv, as you're looking to stream real-time high def video while maximizing your anonymity to avoid local blackouts.
Tip: choose from the first few servers far enough away to qualify you as non-local. If you go too far out (2+ states away), you risk slower streaming, depending on your home's internet speeds.
Overall, there's a reason NordVPN is a big player in the industry. They probably have the best network and infrastructure out there — combined with competitive pricing, they're the service we recommend most often, especially for MLB.tv.
Pros
No lag or buffering while streaming MLB games
No access issues with local games last 2 seasons
Choose from thousands of servers (dynamic or static IPs)
Cons
Slightly more expensive than others
Best value VPN for MLB.tv: Surfshark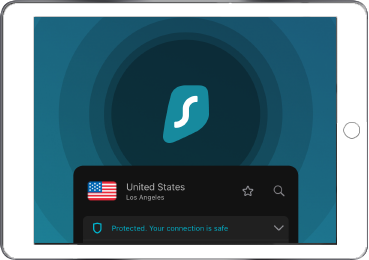 Established: 2018
HQ: Virgin Islands
Servers: 3,200 (USA: 600)
Unblocks MLB.tv? Yes (~99%)
Deal: As low as $2.50/mo
If you're looking to save a few bucks during the course of the 6 month MLB season, you'll probably want to consider a value VPN. They generally have less servers to choose from but can be just as reliable and quick. When it comes to MLB.tv, value can sometimes be hit and miss. You'll definitely need a provider that, like NordVPN, is extremely proactive about keeping their IPs fresh and active for MLB.tv (aka MLB At-bat). We've taken a ton of value-level VPNs for a spin and our choice is Surfshark. Especially for unblocking MLB.tv games, they tick all the boxes of speed, privacy and reliability.
Surfshark's key features for MLB.tv
Over 500 U.S. servers across 20 cities
Wireguard server tech yields impressive speeds
Regarding connection speeds, Surfshark also uses the faster Wireguard VPN protocol. They don't have the extra layer of security like with NordVPN so you'll have slightly less anonymity. For most setups and with MLB.tv, that's not a big deal though. Your static IP is still plenty protected and would take a ridiculously determined hacker to sniff it out. With respect to servers, by volume, they have less near the 30 MLB markets.
Tip: Surfshark works on all devices but with MLB.tv, it tends to work best on a laptop, desktop or streaming device (eg, Fire TV).
Overall, price is always a factor and getting a solid VPN like Surfshark for as low as $2.49/mo is quite a bargain. During real-world usage with MLB.tv, there's no perceptible difference between Surfshark and NordVPN. Games load up quick and stay connected. Compared to NordVPN, while a larger percentage of Surfshark's servers may get blocked by MLB, at any given time, the majority work just fine and get the job done.
Pros
Costs as low as $2.49/mo
Speed with MLB.tv is about as fast as NordVPN
Desktop and mobile apps are extremely easy to setup
Unlimited simultaneous connections
Cons
Less server options than NordVPN
Speed from distant servers can be a bit slower (but not an issue watching games)
What exactly are MLB blackouts?
For over a couple decades, MLB has designated one local broadcaster in each of the 30 MLB markets. That channel has exclusive rights to broadcast the game in that particular geographic zone (see map below). If you live in that zone, you're prohibited from streaming the game on MLB.tv. The only way around those blackouts is to connect via a VPN. A VPN (Virtual Private Network) anonymously tunnels your connection to any server location you choose. So, selecting a server outside of your zone will lift the blackout and you'll be able to stream the game again. Click here to enter your zip to check which teams may be blacked out in your area.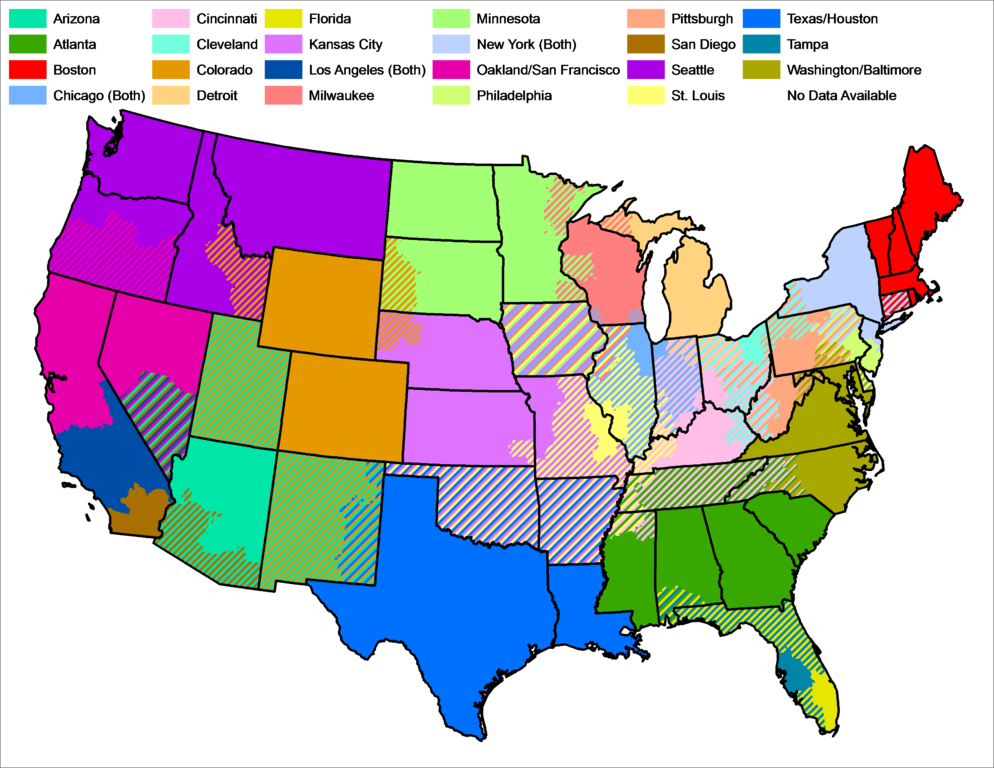 MLB Teams by Region
MLB teams are assigned to their AL or NL division by geography, roughly dividing the country into thirds. Here's a quick look:
NL East
Braves
Marlins
Mets
Nationals
Phillies
NL Central
Brewers
Cardinals
Cubs
Pirates
Reds
NL West
Diamondbacks
Dodgers
Giants
Padres
Rockies
Blackout-wise, your best bet is to usually pick another team in the same division as your target VPN server (different state but not too far). So, for example, if you're a Mets fan in NY, look for a server near the Phillies (somewhere in Pennsylvania). Getting one closer to the Braves will still work but the distance may introduce lag.
AL East
Blue Jays
Orioles
Rays
Red Sox
Yankees
AL Central
Guardians
Royals
Tigers
Twins
White Sox
AL West
Angels
Astros
Athletics
Mariners
Rangers
For the most part, same strategy as the NL applies here. As you can see from the map, every team is in its own blackout zone (other than teams that share cities: NY, LA, Chi teams). The only exception is Baltimore and Washington – since D.C. isn't a proper state it's lumped together with the Orioles.
International access works as well
If you're (temporarily) outside the country, VPNs are a great way to appear to be in the states and watch your favorite team. Just as with folks in the country, choose a server outside the team's state. However, keep it as close to your nearest coast as possible to maximize speeds. For example, if you're in Italy and want to watch the Dodgers, choose a server on the east coast.
Foreign access is a common practice with Netflix and other OTT users as well. Folks out of the country routinely switch regions for a better programming package or to unlock certain shows… same idea for MLB.tv.
Can I use a free VPN to avoid MLB At-Bat blackouts?
They almost never work with MLB.tv and usually come at a different kind of price. Free VPNs give you immediate access to their servers and don't require registration. Seems nice but they gotta make money somehow and that typically involves selling your data to third parties. On top of that, since their servers usually use lower end hardware and are often overloaded, streaming live sports is almost impossible.
Even if you do connect, the constant buffering and lag will eventually drive you nuts. Finally, their network and administrative setup is not conducive to avoiding blackouts. Once one of their IP addresses gets blocked by MLB, they'll almost never take the time nor absorb the cost with switching IPs. Overall, it's just not worth the headache to try to stream MLB.tv with a free VPN.
How to use a VPN to get around MLB blackouts on various devices
Below we'll breakdown the steps on how to get started on various devices and setups. A quality VPN will work under any scenario but with built-in GPS, mobile viewing via an iPhone, iPad or similar Android devices can work a bit differently. However, a quality VPN provider and app can ensure a consistent and reliable connection (the steps below assume you're not using free or freemium).
How to bypass MLB.tv blackouts on a laptop or desktop
Watching MLB.tv on a laptop is one of the more popular ways to catch all the action. A bigger screen and access to more MLB.tv features (camera views, etc), watching on a laptop usually works better for me than a smartphone or smaller tablet. Getting around local blackouts on a laptop or desktop is quick and easy.
Choose a reputable and MLB.tv capable VPN provider
Download the VPN's desktop or laptop software (eg, NordVPN's program)
Install and if on Windows, grant it access to "make changes to your device".
After you register/login, choose a server a state or two away (best not to select dedicated IP or Double VPN)
Play ball!
How to bypass MLB.tv blackouts with Amazon Fire TV or Firestick
Amazon's family of streaming devices are super easy to use and work well with MLB.tv and related apps.
Since they don't have a built-in GPS, they're easier than smartphones to get around local blackouts. Just follow the following steps:
Choose a VPN provider
Install the VPN's app from Amazon (eg, this is NordVPN's).
Open the app and during setup, grant the app VPN permission (example below)
Choose a server outside your area/state and connect
Restart (optional) and check your IP or load a local game
The most important part is to grant the Fire device permission to control the the OpenVPN feature on the device. Give it access and "Ok" any subsequent prompts.
Note that the first generation Firestick doesn't support VPN connection — otherwise, every other Amazon device will work.
Do blackouts also apply to special events like the All-Star game and international games (Mexico, London, etc.)?
For the All-Star game, that's a national broadcast, so no local restrictions apply. Watch it on your local Fox station (or whoever currently has rights). When teams go overseas for a showcase series (like those recently in Mexico and England), MLB.tv usually removes all restrictions. They haven't specified their exact stance on those so that may change (though we don't see a valid reason for that).
Wrapping up
MLB fans are fiercely loyal and technologically savvy. So, when met with a local blackout keeping them from their favorite pitcher or quirky utility hitter, they're gonna find a workaround. Enter a VPN. The good ones are like good umpires — you don't notice when they're there. Unfortunately, it takes a real good one to consistently and reliability bypass MLB's local restrictions.
Nowadays, there are plenty out there but only a few know how to properly advance the runner with less than 2 outs. Sorry, enough bad puns. Bottom line, when you're looking to watch locally blacked out MLB.tv games, it's all about speed, infrastructure and IP turnover. I watch hundreds of MLB games during the season (I know, sad) and hands down, the VPN provider I keep going back to is NordVPN. Enjoy the MLB season, fantasy baseball and may the screaming liners and bad calls go your way!
FAQ
In most cases, good VPN provider will rotate in a new server/IP for that city/state and it'll begin to work again soon. If not, try connecting to the next state over. If all else fails, consider a new VPN provider.
Yes. Most reputable VPNs will also let you access streaming services like Netflix, Disney+, Hulu and HBO Max. The upside for most is you can unlock programming that's only available outside your current state/country (eg, if you're traveling abroad and want to access your home country's Netflix programming).
If using a free or overloaded VPN provider, often. If using a more reputable provider that prioritizes speed and latency, almost never.
^ back to top
1 Comment