Secure Your Experiences with these Roblox VPNs (2023)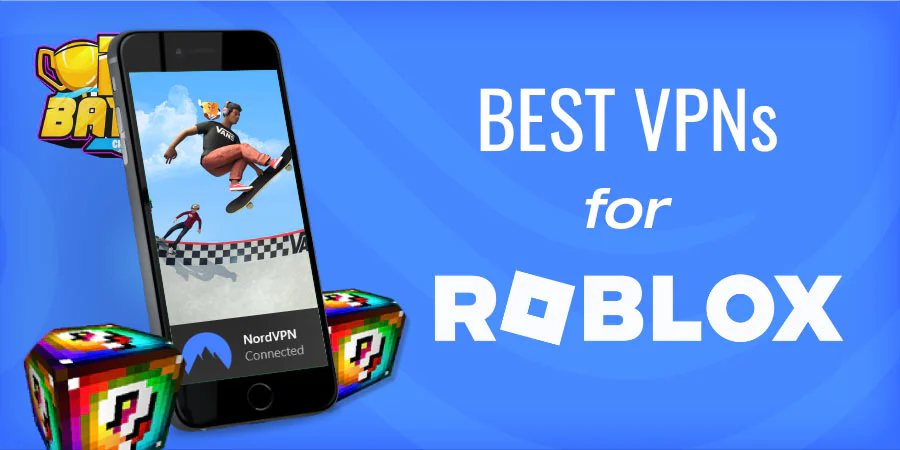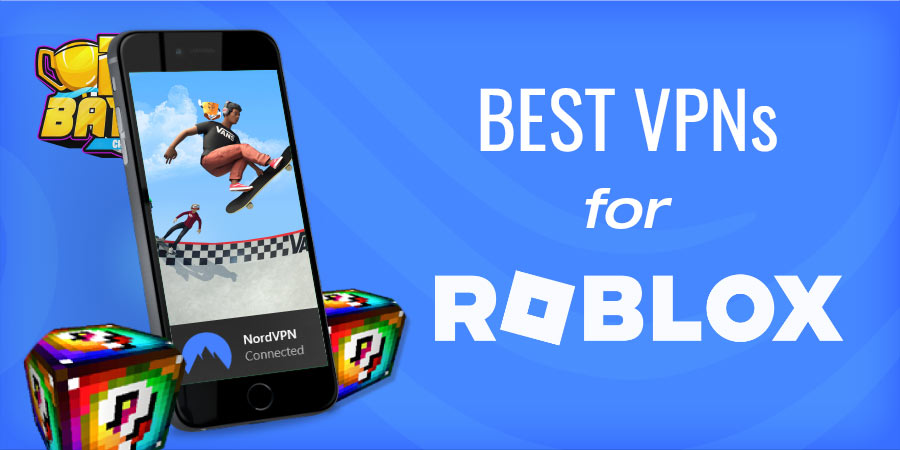 If you're in your teens or younger, you've no doubt heard all about Roblox. For the uninitiated, it's a popular online game platform that lets you play a bunch of user-created games (aka experiences) for free. Anyone can create their own unique game and get paid quite well when people play. It's a much easier way to create games without a ton of programming knowledge (Roblox built their own programming language call Lua). Gamers play for free and have the option of leveling up faster or getting cool stuff with Robux. All the interactivity combined with fresh games has led to a huge community, especially among students. Adults at work all too often ditch their project for a "quick" Roblox hit. The problem with playing Roblox at school or work is more times than not, it's blocked. That's exactly where a VPN help outs.
Most good VPNs let you get around public blackouts without lag or compromising your security. In this article, we'll review the top VPNs to use while playing Roblox in public or in countries where it's banned.
Three most important things to look for in a Roblox VPN
First off, let's touch on the most important factors to consider when choosing a VPN before you hit play:
Low latency – serious gamers know all about latency. It's the time it takes to perform an action (press a button, click on something) and how long it takes for it to hit Roblox's servers and make a trip back to you. The lower the better and it's all about your internet connection. Only the best VPN networks eliminate latency concerns.
Nearby servers – when you connect to a VPN, it matters if the server is across the street or country. You're always better off connecting to the closest available. Smaller and slower VPNs don't have that many servers per given county/state. Choose a VPN with as many servers as possible.
Large server network – related to speed, the number and location of servers across the state/country/hemisphere you're headed to matters a lot. Connecting to a server 50 miles away is MUCH faster than having to use one a few states or countries over. Be sure to pick a VPN with an above average number of servers. These days, that equates to at least 2,000 servers worldwide.
Our picks for the best VPNs to use while playing Roblox
So, now that we know what's important… we took all the major VPNs for a tough weekend of gaming and only three made the cut. They'll be ranked below under the following categories: Best overall service (absolutely the top choice), best value (the most bang for your buck) and the wild card pick. Enough talk! Let's get to it…
Best overall VPN for Roblox: NordVPN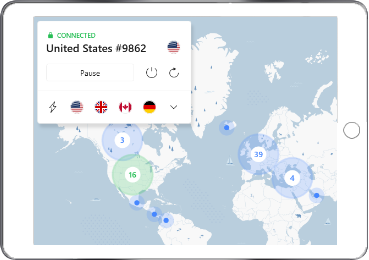 Established: 2012
HQ: Panama
Servers: 5,600 (USA: 1,970)
Gaming-optimized? Yes
Deal: 60% off all plans
NordVPN is a one of the top VPNs in the world and there's good reason for that. Industry-leading privacy, a ton of servers AND competitive prices make it desirable for just about all needs. With online games like Roblox, look for the lowest latency you can find… and in almost all cases, that's NordVPN.
With their proprietary Meshnet feature, you can connect to any device, anywhere just as it was in the same room or LAN as you. No routers, firewalls or proxies to slow you down. Just as important, all their features are compatible with >99% of devices, while still protecting your privacy, including DDoS protection. Here are their top features:
NordVPN's key features for gaming
Over 5,600 servers in 60 countries
Meshnet (local multiplayer)
Industry-leading speeds
Unmatched privacy
Bypass ISP throttling
With regard to speed, NordLynx is the connection protocol that drives their industry-leading speeds. It constantly maps the best connection to a NordVPN server, prioritizing speed and privacy. Overall. NordLynx is quite a bit faster than open source connection protocols (OpenVPN, etc) that a lot of other VPN providers use. In all our tests, its speeds outperformed the average VPN by at least 25%.
Meshnet is a premier VPN gaming technology
Back to Meshnet, that's probably NordVPN's best feature, especially for multiplayer games. Get your teammates connected via Meshnet and you'll all be able to connect to each other's computer or devices via a local network. For example, see the Meshnet diagram — instead of first connecting to your friend's ISP (which introduces lag), Meshnet bypasses that step and creates a secure real-time connection between the two of you, No other VPN provider out there can boast the same.
The best part is there's no practical limit to how many devices you can connect together via Meshnet (technically a max of 60 devices, 10 from your account, 50 from others).
When you play games without a VPN or a custom way to cloak your traffic, your ISP knows. And most of them will eventually throttle your connection, especially with heavy gamers. The result is a less seamless experience with lag and some latency introduced. NordVPNs system lets you fully hide your online activities, ensuring your ISP never throttles your bandwidth while playing Roblox or more resource-hungry games.
Pro tip: for folks in Europe or Asia, for fastest speeds, pick a server in your current country, closer the better.
Pros
Fast speeds from anywhere in the world (very few exceptions)
Unblock the programming you want
Unrivaled privacy and security
Identity protection even if disconnected
Best value VPN for Roblox: Surfshark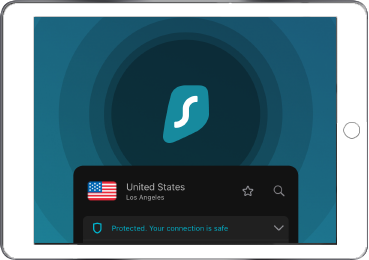 Established: 2018
HQ: Virgin Islands
Servers: 3,200 (USA: 600)
Roblox-friendly? Yes
Deal: As low as $2.50/mo
If you're looking to save a few bucks a month, SurfShark is a great option. Compared to NordVPN, you won't get as many server options and speeds are just a bit slower, but with most games you won't notice a difference. We tested over 50 servers in different countries and Roblox didn't slow or lag more than a few times in total (mostly with servers in distant countries). As long as you're relatively close to one of SurfShark's servers, it's a solid solution for gamers.
SurfShark's key features for gaming and Roblox
Over 3,200 servers in 100 countries
DDoS protection
Camouflage Mode
No bandwidth limits
Compatible with all devices
Regional multiplayer with excellent ping rates
As mentioned, one of the coolest features of a VPN is being able to play multiplayer with friends from all over the world. Without one, regional servers and ISPs will typically block anyone outside the area. A low latency VPN like SurfShark lets all your friends connect to the same server no matter where they live. It's not as fast or user-friendly as NordVPN's MeshNet but you'll be able to play Roblox without any latency or getting blocked.
SurfShark also optimizes gaming activity with extremely fast ping rates. Just about all ISPs monitor what you do online. If you're a high bandwidth user or play a bunch of multiplayer games they'll often throttle your connection and ping rates. With SurfShark, hiding your activity behind their servers doesn't let your ISP see your activity. So, no throttling, ever.
SurfShark has the most servers in Europe
If you live in Europe or want to connect to servers there, Surfshark has the most servers in Europe, period. Compared to NordVPN, they have a server located in at least 60 more European cities. A few of those cities not available with NordVPN include: Amsterdam, Barcelona, Istanbul, London, Madrid, Milan, Oslo, Rome, etc.
Pros
Unmatched value
Most total countries in network
Excellent security protocols
Solid customer service
Best free VPN for Roblox: Atlas VPN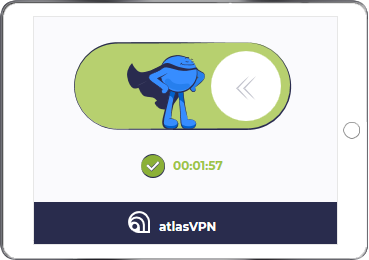 Established: 2019
HQ: New York
Servers: 750 (USA: 70+)
Free plans? Yes
Deal: As low as $1.82/mo
We don't usually recommend free VPNs because they're almost always packed with people. Thus, they're slow, IPs are routinely blocked and privacy isn't really their top priority. If you can't afford a VPN and free is your best option, try Atlas VPN. For a free service, they have an above-average network of servers and features. With regard to privacy, they don't abuse your traffic data like other free VPN providers. Yeah, you'll give up some privacy, but there's always a trade-off with free.
Atlas VPN's key features for Roblox
Over 750 servers in 49 countries
SafeSwap
SafeBrowse
MultiHop+
Split Tunneling
As they're still a relatively new company, Atlas has the lowest number of countries covered. 49 is still pretty good though and they cover all the big countries: US, UK, Germany, France, Belgium, Italy, China, Canada, Australia, Portugal, South Africa, Turkey, UAE, etc. They're growing pretty quickly so expect that list to grow over the years.
As far as their features go, here are some of their best:
SafeSwap – divides up your actual IP into a few different anonymous IPs. Once active, it makes it virtually impossible to uncover your home IP.
DDoS Protection – heavy games know competitors can do all kind of things — sending off a DDoS attack against a rival happens all the time. Atlas has built-in DDos protection, even on free plans.
MultiHop+ – you'll bounce off multiple servers in an effort to further protect your privacy. This is only available with paid plans, but well worth it, especially if on a public network.
Pros
Save more with longer plans
Free option works w/ games
Above average security
30-day guarantee
Cons
Not available in some countries
Relatively young company
Less privacy with free
Can I use a VPN to play Roblox in school?
First off, get your school stuff finished! But, hey, if you need a short break, a quick game is a nice reset. At most schools, however, Roblox is on the router block list. You'll need a VPN to get around it. You'll also need one that consistently rotates in new IPs – otherwise, a blocked VPN IP may not work for a while. Quality VPNs like NordVPN have a team dedicated to make sure their IPs are as whitelisted as possible.
Here's what you want to do:
Choose a VPN provider (free usually only works once at a school).
Install the VPN's app on your device or desktop (doesn't matter).
Clear your browser's cookies, at least for the Roblox app/website.
Close your browser and re-open it
Open up your VPN and connect to the closest city to your school
Ideally, use a dedicated VPN IP (depends on your plan)
Confirm your location by going here
Once confirmed, you're good to go!
Wrapping up
Roblox is cool game that actually teaches you a lot. Programming, marketing, design and more. Creating your own game and watching strangers enjoy playing it is pretty darn satisfying. Toss in being able to make some actual money is a big plus. There are so many folks playing Roblox now that it's commonly blocked in public areas like schools, work, etc. It takes a very good VPN to deliver speed AND privacy with a high frame rate game like Roblox. Good thing is most VPNs (including all three profiled here) offer a trial period to check if speeds are fast enough in your typical gaming hangouts. Give 'em a thorough test before you pick one. Committing to a longer plan of at least a year will save you A LOT more than going month-to-month. Overall, have fun playing Roblox, keep your privacy secure and, most of all, keep building!
About the author
^ back to top