Is the DIRECTV HD Extra Pack Really Worth it?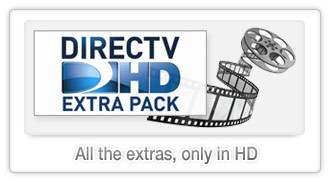 If you're like most subscribers, chances are you're hooked on high definition. Whether it's 1080p or the cutting edge 4K UHD, the resolution AND clarity is magnitudes better than standard def. If you're like me, you'll even pick an "inferior" show in HD over just about anything in SD…and if it's a cool indie flick, there's flat out no competition. So, when DIRECTV launched their HD Extra Pack (at $4.99/mo) and packed it with a ton of niche movie and documentary channels, folks took notice. But is it worth it? Read on for all the details…
HD Extra Pack Programming
In total, you get 9 all-HD channels, including:
HDNET Movies (channel #566) – started in 2001, HDNET features a wide range of movies, a fair number of which are exclusive to the channel.
Hallmark Movie Channel HD (565) – as you might expect from Hallmark, this network specializes in family-themed programming (Disney shows, westerns, etc).
MGM HD (567) – this channel continuously runs the over 1,100 movies owned by MGM Studios. While some can be found elsewhere (Netflix, etc.), a good percentage are only available on this channel, all in remastered HD quality.
Palladia HD (572) – owned by Viacom, Palladia is an extension of MTV and VH1 (the reality part, not the music). That is, you'll typically find music videos in the very early morning, then reality and specialty music programs for the rest of the day.
Sony Movie Channel HD (568) – the first and only channel completely owned by Sony Pictures, it broadcasts movies direct from Sony's vast library (Tristar Pictures, Columbia, etc).
Crime & Investigation HD (571) – tap into your inner sleuth and get your fill of non-stop crime programming, such as The First 48, SWAT, 24, etc.
Smithsonian HD (570) – owned by its museum namesake, this channel focuses on research and historically-significant non-fiction. It's essentially a mix of the History and Discovery Channels, without all the reality hoopla.
Universal HD (569) – backed by NBCUniversal, it merges all the quality programming produced by both studios. Running the gamut of sports, news, dramas and theater, you'll get classics such as Bonanza, Columbo, House M.D., Law & Order, etc.
ShortsHD (573) – the most niche of the lot, ShortsHD brings you JUST short films, especially those that won big at film festivals. Its only been around for a few years in the states, but already garnering a ton of positive buzz.
Bottom Line
TV programming is all about balancing interest vs value. That is, if your plan doesn't already include one or a few of the channels above and you REALLY want 'em, $4.99 a month is a pretty fair price…especially if you compare it to the cost of the premier movie networks (HBO, Cinemax, etc. which go for about $15/mo). Of course, you won't typically get the Hollywood blockbusters, but if you're more than happy with the classics and the wealth of crime, shorts and historical programs available in the DIRECTV HD Extra Pack, it's worth at least a trial month. If it doesn't quite meet your expectations, simply remove it – no fees or penalties apply. We actually have it in our home and judging by the DVR scheduler, it's in very heavy rotation (with ShortsHD being the runaway favorite).


^ back to top