DISH Amps Up its VOD With 11 New Packages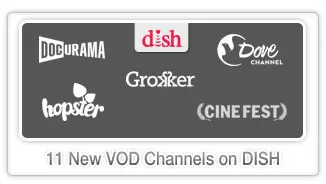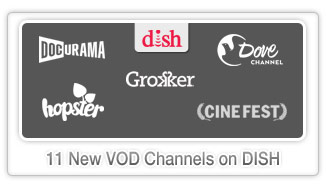 Movie buffs with DISH are probably well acquainted with the process and title options on Hopper's Video on Demand (VOD) page. For the last couple years, there's been about 65,000 titles to choose from and while that's a healthy number, DISH recently juiced up its offering by adding over 7,000 additional titles. They fall under a variety of themes and are grouped into 11 different VOD channels/packages. Ranging in price from $2.99 to $7.99 per month, read on for a quick summary of each…
New Video on Demand Subscription Channels
As with the rest of DISH's VOD Service, you can view the new channels via Hopper's set-top box or the DISH Anywhere app (so, you can conveniently view them while on the road). Here's a look at each of the new packages:
UP Faith & Family ($4.99/mo) – a faith-based mix of family programming, UP gives you an ABC Family vibe with a religious backdrop. Popular series: My Dads a Soccer Mom, Love Covers All, etc.
Dove Channel ($4.99/mo) – another family-oriented and religious (Christian) channel, Dove features a ton of original movies and shows. Interestingly, with that large variety and to make screening a bit easier for parents, they ended up creating their own 6-category rating system applied to every show they broadcast.
CuriosityStream ($2.99/mo) – a specialty sister channel of Discovery, CuriosityStream was launched in 2015 and blends a variety of nature, science and tech programming. All told, it carries north of 2,000 different documentaries and titles, most of which are original.
Docurama ($4.99/mo) – owned by Cinedigm (who also run the Dove Channel above), this package brings you over 1,200 documentary shows and feature films, ranging in theme from politics to personal biopics. The higher price tag per number of titles is due to the extra production costs these type of non-fiction shows require.
Outside TV Features ($4.99/mo) – brought to you by the folks at Outside TV magazine, if you dig adventure sports (skiing, climbing, biking, etc), you'll get plenty of endorphin juiced action here. New movies or documentaries are added every few weeks or so.
Comedy Dynamics ($4.99/mo) – as the name suggests, this network goes after your funny bone with plenty of original stand-up and comedy specials. They do a pretty good job of balancing the established comics with the up-and-comers.
Grokker ($6.99/mo) – remember the days when ESPN used to put on those early morning fitness shows? Pine no more…this channel is basically a 24-hour fitness showcase with some of the biggest instructors in the industry. From Yoga to Cardio Funk, when you're in the mood to get your sweat on, Grokker has you covered.
Here TV ($7.99) – launched in 2002 as the first full-time LGBTQ network, Here TV's programming is both entertaining and socially progressive. As evidenced by its multiple GLAAD media awards, this channel filled a major void in on demand and pay TV.
Hopster ($4.99/mo) – perfect for pre-schoolers, this network helps instruct your little one on life's basics. From the classics (Reading Rainbow and Sesame Street) to more "cutting-edge" kid shows, this ad-free network is a must-have for plenty of parents.
Hi-YAH! ($2.99/mo) – young grasshopper, snatch these classic karate & fighting shows from my hand… all for the price of a warm tea. Bruce Lee, Jackie Chan, roundhouses and a large popcorn, sounds like a perfect weekend night.
CineFest ($4.99/mo) – ever wish you could swing over to Cannes or Toronto for one of those chic film festivals? Well, save yourself the aggravation but still enjoy those indie classics with CineFest. A sweet mix of foreign, twisted, obscure and sideways funny, these indies are always a welcomed change from the Hollywood clutter.
Conclusion
If you made it this far you're probably gung ho about one or more of the channels above. The good news is DISH gives you plenty of flexibility if you're ready to subscribe – order as many or as few of the channels above (and from their VOD library) and cancel whenever you want, no strings attached. Unfortunately you won't get any bundle discounts but at least for these 11 VOD channels, the monthly fees are solidly in sync with the level of entertainment you get. And if lack of time eventually gets in the way, it's a simple one-click cancel from your remote. Enjoy…


About the author
^ back to top