The Ongoing Saga of the HBO Outage on DISH
UPDATE (1/15/22): As of July 2021, HBO and all its properties are back on DISH. It launched with a $12/mo special for HBO Max.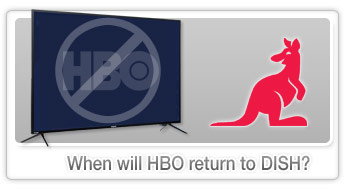 Since Oct 2018, DISH subscribers that dig HBO know all too well about the licensing issues that have continued to force it off the air. Soon after AT&T bought up WarnerMedia and its prized jewel HBO network (in mid '18), they seemingly made the decision to use HBO and the impending last season of Game of Thrones as a bargaining chip. Well, fast forward a year and the blackout is still alive and, frankly, we don't expect a change anytime soon. Let's dive a bit further into what caused the rift, the fallout and how DISH subscribers can still watch HBO.
AT&T plays hardball
AT&T has been on a buying spree for much of the decade and after their purchase of DIRECTV (2015) and Warnermedia/HBO (2018), all the signs were there for an HBO battle with DISH. When the much-anticipated final season of Game of Thrones came around in early 2019, they double-downed on the impasse. So, what's the general theory behind the strategy? Mainly to attract new subscribers to DIRECTV and their other AT&T services like internet and cell, via bundling. The other factor in play here is the long-term direction of DIRECTV. Ever since the acquisition, DIRECTV hasn't quite grown the way AT&T hoped and more recently the rumor mill is hinting that AT&T may actually be looking to unload DIRECTV… that may end up being the best outcome and if it did happen, the HBO dynamic with DISH would most definitely change.
The effects of the HBO blackout
In short, all the parties involved have been negatively affected since HBO went dark on DISH. While DIRECTV has seen a few more subscribers move over from DISH, its growth has leveled off a bit, partly due to the general impact from cord-cutting. In our opinion, for those looking for a full slate of channels and a top tier DVR, DIRECTV is still one of the best options out there. With respect to DISH, they saw a temporary hit in subscriber growth in the months after HBO first went dark. Since then, and now a year later, growth rates have returned to healthy norms, especially among those looking for a cutting-edge DVR, huge DVR space (2TB) and a general savings over most similar services. For HBO itself, dropping access to DISH (and its OTT provider Sling, which DISH owns) reduced its reach by over 10 million folks. They've recovered a bit and with the impending release of HBO Max (Netflix-like service), expect HBO media to continue to thrive.
How DISH subscribers can still watch HBO
The easiest and least expensive way for DISH subscribers to get access is via HBO Now. It's HBO's online and on-demand service that lets anyone subscribe directly to HBO. There's a 7-day trial and goes for $15/mo thereafter (the price it costs via DISH anyway). You'll be able to watch everything on HBO, absolutely no restrictions or up-sell. As it's not currently integrated into the Hopper, the downside is you'll need to watch via an app on your mobile device, smart TV or computer. We did it ourselves and it was a pretty smooth process. We just switch over via our Samsung Smart TV (in our case, navigate to the default app homepage on the TV itself). Overall, takes an extra few seconds but well worth it for our GOT and Westworld superfans.


^ back to top