How DISH's New "Build Your Package" Tool Works
Traditionally, the process of picking a TV plan consists of referencing a channel comparison table and selecting a package that includes all or most of your favorite channels. That tends to work fine but can be a bit time consuming. In a helpful move, DISH recently launched a new feature on their website that lets you individually select your high priority channels. When you're done, the shop by channel tool will recommend the plan that includes all (or at least nearly all) those channels. It's sort of like calling your car salesman and giving him your most important specs and having him put out the top 3 matches by the time your arrive. It's only available on their website, here's how to use the tool…
Build your package: Add channels to your favorites one at a time
There's no minimum number of channels you can pick (can even just choose one) and as you add them to your favorites, the system will automatically update your recommended plan. In the example below, we selected the NFL Network (see red arrows) and the tool defaulted to America's Top 120+ as that's the first package to include it. Note that it also shows you the plans below and above it so after you add a good number of channels, you can decide if an extra channel or 2 justifies upgrading to the next plan.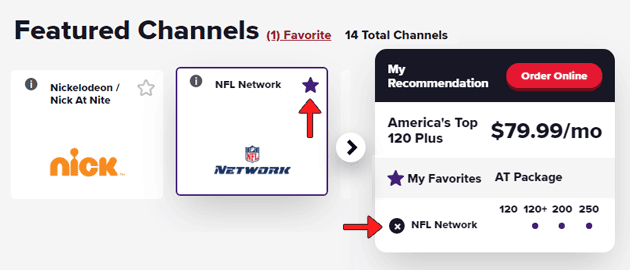 Featured channels and other categories
DISH has broken up their entire programming lineup into 7 different categories. Starting with their most popular channels (seasonally adjusted as well), it lets the majority of users quickly sort through their favorites. There's also a search bar at the very top if you can't find a specific channel. Here's a quick look at each of the sections:
Featured (14 channels) – The most popular networks in their entire lineup (CNN, Discovery, Hallmark, A&E, etc). As with all the categories, you can select all or none of the channels in each (of course, you'll need to choose at least one to get started). All 14 of the channels here are also appropriately found in the other categories.
Sports (56) – From ESPN and FOX Sports to Univision and beIN, there's no shortage of option from the largest category of the bunch.
Kids (20) – nick, Disney and the Cartoon Network lead a wide array of kid-oriented channels, perfectly suited for young toddlers all the way to teenagers and, hey, even nostalgic adults (raises hand).
News (23) – unless you get all your news online, it's always nice to have at least once major news network in your TV programming, especially these days. At the very minimum, CNN is included in ALL of DISH's plans so even if it's not selected you'll always have it available.
Entertainment (38) – including stalwarts such as Food Network, FX and E, this category's networks are scattered about all DISH's plans. That is, if you select your favorites here first, you'll save a bit of time narrowing down the plans.
Educational (21) – who doesn't dig the History channel or Animal Planet, at least every so often? There are 21 total options here and the majority tend to be included in America's Top 120+ and below.
Movies (41) – the second largest category, at least a third of these are in America's Top 120+ and above (more of the niche networks). However, broad appeal channels such as AMC, TNT, USA, TBS and more are found in just about every DISH package (America's Top 120 and up).
Wrapping up
Using a PDF channel guide or table to select a plan works just fine but DISH's new Shop by Channel tool really speeds up the process as you get to steer the action. In our tests, friends and family were able to find and select their favorite channels in under ~3 minutes. The tool ended up guiding them to the plan they already had so it's all pretty accurate. To give it a whirl, follow the banner below to DISH's official site and under "Value" in the top menu, click on "Shop by Channel" (or press any of the "Build my Offer" buttons throughout the site). If you run into any problems or need some guidance, get in touch any time.


^ back to top