Should You Enroll in Paperless Billing and AutoPay?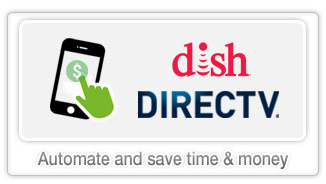 During the sign-up process for DIRECTV or DISH, you're typically asked whether you'd like to sign up for two optional features, e-bill (all statements sent by email) and autopay (balance automatically paid from your preferred account). You're under no obligation to enroll in either but they do give you a good dose of convenience and even a potential savings on your bill. Read on for all the details…
The Benefits of E-billing
Some folks will always prefer the familiar dependability of a statement in the mail. About a decade ago, paperless billing really started gaining traction with the utility companies and soon thereafter, folks began getting increasingly comfortable with checking their phone or computer for statement info. Nowadays, its not uncommon to have multiple bills sent solely by email (or text). One major upside is security – all your account info is hidden behind an encrypted website and not laying around your coffee table for anyone to find. You can also get access to your bill and setup payment sooner. Thirdly, paperless billing lets you see a history of your previous bills (and easily compare costs/fees). A final upside is the green benefit with one less stream of bills being printed…every little bit helps.
With DIRECTV and DISH, both give you the option to setup e-billing via your online account or the app. You won't save anything off your bill (unlike with Autopay) and can revert back at anytime. Here's how to get it setup…
How to activate Paperless billing with DTV and DISH
With DIRECTV, head over to the paperless billing section on the "My Bills & Transactions" page and click "Enroll Now". Read and accept the terms and conditions (they're standard) and you'll get a confirmation email sent off to ya.
On DISH, you have two easy options – log into your DISH account and under the "eBill" section check the "Do not send me a paper bill" option. Your bills will be sent to the email on file. Option 2 is via the app – head to your account page, choose "Billing", "Preferences" then check "Ebill". That's it.
Save a few bucks with AutoPay
Autopay is the payment feature that automatically debits your bank, credit or debit account every month. With both DIRECTV and DISH, you'll get a $5 discount off your monthly bill when enrolled in Autopay. Note this discount only applies during your promotional period, so that's 12 and 24 months for DIRECTV and DISH, respectively. You can enroll (and unsubscribe) at anytime via your e-bill and online account. Payments get processed on your due date and it generally takes a few days for Autopay to kick in so leave plenty of lead time if switching.
Regarding the discount you get, currently, once the promo period ends it'll go away with your lower package pricing – however, both providers' offers change quite a bit over any given year and whatever terms you lock-in at sign-up dictate how your bill is structured. So, be sure to ask whether an Autopay discount applies during and after your promo period.
What about the downside? Well, it really comes down to how comfortable you are with saving your payment information online (card or bank account). If you prefer manually paying each bill online or sending in a check, autopay probably isn't your cup of tea. As with most telco and utility companies, both DISH and DIRECTV use the latest security encryption on their websites and apps so barring a breach, you should feel pretty secure.
Conclusion
Paying bills isn't fun but it doesn't need to be difficult either. With paperless billing and Autopay you'll never have a late payment or have a problem viewing previous bills. Toss in a nice monthly discount, there's very little reason not to opt-in to both. Of course, don't just set and forget it either. Periodically check your statements to make sure you're still paying the same amount and adjust as needed.


FAQ
Yes, although it's much easier to do so via your online account. Simply ask your support agent to set it up on your account (you'll need to confirm your primary email address).
Log into your online account and go to the billing section. All your old bills and payments are there for viewing and downloading.
^ back to top