Watch DIRECTV on your PC with DIRECTV2PC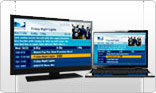 One of the best parts of being of a DIRECTV subscriber is access to the latest, cutting-edge technology. A good example of that is their DIRECTV2PC system, which allows you to simultaneously watch everything DIRECTV has to offer right on your PC. Here's how it works:
1) Hook up your receiver
To get started, simply connect your DIRECTV Plus HD DVR to the internet (via an ethernet connection on the back of your receiver). If you have a wireless network, it's even easier – sync the receiver to your network and you're done.
Equipment-wise, DIRECTV2PC needs the DIRECTV Plus (HD or regular) receiver to seamlessly communicate with your computer. Other DVRs aren't currently DIRECTV2PC-compatible so let your sales agent know you're interested and they'll set you up with the best DIRECTV Plus DVR package available.
2) Install the application on your computer
The second and final step is to install the DIRECTV2PC program on your computer. It's a pretty quick install and doesn't take up much hard drive space. Be sure to create a shortcut during installation so it's always just one-click away.
Now that you're setup, you'll be able to do the following on your PC…
Watch recorded programming
While you normally watch live shows on your TV, you'll now be able to access your entire DVR library from your computer. DIRECTV2PC uses the exact same interface as your TV so there's no annoying learning curve or hunting after key features. During playback, there's also no interference or impact on your regular TV, so they're truly independent.
View programs in HD
With DIRECTV's setup, there's absolutely no loss in picture quality in the PC transfer. Any show that was recorded in 1080p HD will playback at the same frame rate and resolution on your PC (of course, assuming your computer's monitor supports it). It's also pretty cool to be able to watch TV as you work (not recommended, but it is possible :)).
Navigate using the same on-screen guide
As previously mentioned, the DIRECTV2PC program installs a mirror of your TV's on-screen guide and interface. Along with synchronization, that was probably the single biggest technological hurdle for DIRECTV. Other TV providers have tried to give their customers PC access in the past, but every one I've used forces a completely new interface on you or dramatically strips down the regular one.
Conclusion
DIRECTV2PC gives you an unparalleled amount of PC flexibility. Bigger households get an extra PC "viewing station" that's open 24/7. If you're a power user constantly multitasking (and don't need another receiver), it's probably right up your alley. I've setup DIRECTV2PC more than a few times (for friends, family, etc.) and haven't heard a single negative comment, even after months of use. It's a slick little feature and, if you're on the PC alot, a good reason to stay or switch to DIRECTV.


^ back to top