What you'll get with this year's NFL SUNDAY TICKET and Max Upgrade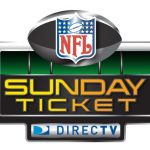 For the this season, DIRECTV tweaked their promotional playbook a bit: they're still offering the NFL SUNDAY TICKET free to new customers (HUGE bonus), but recently introduced a new NFL SUNDAY TICKET MAX upgrade which gives you access to all the games on your computer, tablet or smartphone (previously, this was a free part of the Ticket). Even with the change, it's still the best deal in sports. Here's a full breakdown of what you'll get…
NFL SUNDAY TICKET Features
If you've subscribed to it in the past, you'll still get all your favorites, plus a few cool new options.
Unlimited access to over 200 regular season games (blackout restrictions apply). Every game is broadcast in crystal-clear HD.
Game Mix – are you big into fantasy sports or office pools? If so, you'll LOVE the Game Mix channel and the way it showcases 8 different games at the same time via a 4×2 split-screen.
NFL RedZone – if you're only interested in scoring plays, the RedZone channel constantly shifts from game to game, bringing you EVERY scoring play (and just about every play from inside the 20). When my favorite team isn't playing, I'll usually leave the RedZone on for hours (yeah, I know, I'm sick).
Player Tracker – pick up to 18 different you want to track and DIRECTV will give you real-time updates of their stats and even send you an on-screen alert if they just did something positive so you can switch over and watch it.
The new NFL SUNDAY TICKET MAX
If you're on the move a lot (or would just rather watch the games from your desktop or device), the newly minted NFL SUNDAY TICKET MAX lets you watch each and every game from your computer, smartphone or tablet. A WIFI connection is highly recommended though you can still catch the choppy basics over 3G. On a high-speed connection, the clarity is an impressively high, even as you switch from game to game. To get started, simply install the app on your mobile devices, login and you're set. The only downside is that starting this season, you have to pay for the privilege. As of this writing, the cost is $59.99 for 5 months. Considering the network and feature enhancements they made to their mobile streaming, I still consider that a bargain.
Get the Ticket before it's gone
If you're a borderline unhealthy NFL super fan (like me), given the current specials, it doesn't make much sense to delay getting the NFL SUNDAY TICKET. Last year, I got it a few weeks into the season and regretted it big time (you'll get the most value by ordering it before the season starts; thereafter, partial season pricing kicks in). To jump on-board, it'll cost current DIRECTV subscribers a newly reduced price of $199.99 for the season while new DIRECTV customers simply need to sign up for service before the promo expires (no telling when it'll end) and you'll get it 100% free. Oh, and good luck to your team this year (unless they're up against the Broncos :)).

About the author
^ back to top