DISH Add-ons: Outdoor Sports Package Review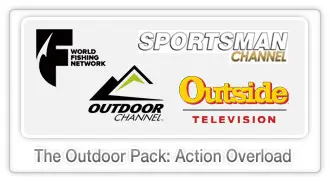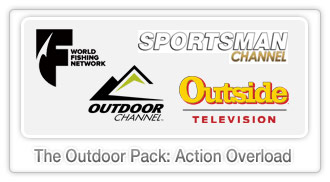 If you dig the rustling of leaves and chipping birds (not to mention hardcore hunting and fishing :), DISH's Outdoor Sports add-on plan is probably a legit match for your crosshairs. At just $4/month, it unlocks four new channels: Outdoor Channel, Sportsman Channel, Outside Television & WFN (World Fishing Network). In this article, we'll cover each in a bit more detail and help you decide if it's worth the few extra bucks…
Outdoor Channel (#396)
One of the more popular channels in the sports/outdoor space, the Outdoor Channel is probably the biggest draw in this pack. First seen in 1994, it tends to break up programming into three categories: hunting, fishing and outdoor. Some of its more popular programs include…
Hunting: American Archer, American Birdhunter, World of Whitetail, Shooting Gallery and Gun Stories
Fishing: Major League Fishing, Big Sporting Saturdays, Zona's Awesome Fishing Show, etc.
Outdoor: Limitless, Outdoor Adventures, Gold Fever and GunnyTime
A good chunk of those channels are original programming you won't find anywhere else. If you're into outdoor activities and/or hunting, the Outdoor Channel will become a fast favorite.
Sportsman Channel (#395)
Sort of like the Outdoor Channel's upstart little brother, the Sportsman Channel brings a ton of specialty/niche programs to about 30 million households. As the name applies, it skews more towards hunting and shooting. Here are a few choice programs from each of their three main categories:
Hunting: – Bowhunter TV, Destination Xtreme, Guidefitter, Hunting Illustrated, North American Whitetail
Fishing: – Into the Blue, Saltwater Experience, The Sporting Chef, Out There
Shooting: – Guns & Ammo, Gallery of Guns, World of Beretta, Rapid Fire, Ruger Inside & Out
If you're into shooting sports or guns, you'll probably dig >75% of all their programming (there's very little fluff or filler).
MAVTV (no longer included)
Update: as of June 2015, DISH has dropped MAVTV, due to rising licensing fees. They replaced it with Outside Television; more on that channel in the next section…
Launched as Maverick TV (back in 2004), this channel has its roots in sports races and gearhead-related programming (SpeedFreaks, American Tailgater, Roller Derby, etc). By 2012, Lucas Oil, swept in and saved it from going under… and rebranded it as MAVTV, with "MAV" now standing for Moves, Action and Variety. As you might've guessed by the acronym, there was a shift to more commercially viable, general-interest programming. However, Lucas Oil (being a big sponsor of various motor sports), also kept to the channel's core and continues to show various racing events, including events from the Lucas Oil Off Road Racing Series, Drag Boat Racing and Pro Pulling Leagues. Some of the other leagues/events include ARCA Racing, British Motocross, Sidecar racing, AMA Endurocross, FIM Supermoto, Australian Drifting, Ice Speedway and more.
So, basically, you'll still get your racing fix, while getting to enjoy guy flicks and reality programming.
Outside Television (#390)
Outside TV features more of a cross-training look at outdoor activities: hiking, running, skiing, sailing, kayaking, surfing, etc (nearly no hunting-related stuff). If it happens on/in terrain, wind, water or snow…and you break a sweat doing it, there's a pretty good chance it'll get featured on Outside TV. Spun out of the popular Outside magazine, most of its programming features original, HD-quality coverage of special events, outdoor adventures and even fan-inspired treks.
Just a few favorite programs: Outlook, The Xtreme Collxtion, Ultimate Rush, Reel Rock, World of Adventure
Bottom line, if you like testing your physical limits (or just enjoy watching others do so), Outside TV will get your adrenaline goin' and then some.
World Fishing Network (#394)
Available since 2005, WFN is an angler's dream. While the channel originated and is still based out of Toronto, Ontario, World Fishing Network covers species from all around the world. They tend to break up their programming into four environmental categories: freshwater, saltwater, ice and fly fishing. Here are a select few:
Inside Sportfishing – hosted by Michael Fowlkes, this high octane show treks the globe for exotic and unique catches (bluefin, marlin, giant tunas, etc). As the name implies, it's all about the thrill of the hunt.
Fishing Expedition Amazonia – we all know South America's Amazon River breeds some of the most endemically dangerous animals (and fish) on Earth. Hosted by Steve Townson, Fishing Expedition Amazonia brings you face-to-face with piranhas, electric eels, vampire fish, pacu (piranha's HUGE cousin) and more.
King of the River – hosted by André Paradis, this adventurous show pits man against fish… typically in an extended, season-long face-off. For example, in season 2, the show's 2-month mission was to track down Atlantic Salmon in waters out of eastern Quebec. If you enjoy thorough and challenging expeditions, give this show a try.


About the author
^ back to top