Review of DISH's 2-Year Price Lock Deal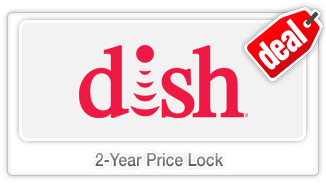 When it comes to monthly service bills, no one digs uncertainty. Some industries are notorious for hiking your bill, either slowly or all at once after a certain amount of time. Over the years, satellite TV companies haven't been immune to those practices…but to their credit, have recently switched course. DIRECTV launched a 2-year price lock a couple years back but it required you bundle an additional AT&T service, such as AT&T internet or phone. Otherwise, your bill in year 2 increases about 75%. Update: DIRECTV has phased out their 2-yr lock pricing so be sure to average their 1st and 2nd year pricing to properly compare vs DISH.
DISH recently revamped their pricing structure as well, but did so with a non-restrictive 2-year price lock program. That is, ANY DISH plan qualifies you for a fixed price for 24 full months. And while they no longer have flashy low introductory prices (to grab your attention), the total cost over 2 years is almost always less than their previous pricing tier. Toss in free HD for life and plenty of other goodies, it's arguably the best time to switch to DISH. Here are all the details of the current deal:
FREE Hopper 3 DVR System
FREE SHOWTIME and STARZ for 3 months
FREE DISH Movie Pack for 3 months (15 channels)
FREE HD for Life
FREE Professional Installation of 1 room (each additional is $5)
ONLY $59.99/mo for over 190+ Channels (locked for 2 years). View and compare all the DISH packages.
DEAL BONUSES (choose one)
For a limited time, grab one of these free bonuses at sign-up (just make sure to specifically request it):
55+, teachers, first-responders, military & healthcare – if anyone in your household is 55 or over, a teacher, first-responder, a healthcare worker or military, have that person sign up and save upwards of 20%.
How's this deal stack up to previous ones? Value-wise, it's probably one of their best in over 7 years. If you were thinking about getting DISH, there's plenty to like here..
Expired Deals
These promos have ended but they'll give you a good idea of previous offers and their relative value. DISH occasionally brings back expired deals so it's nice to be able to put them in context.
12 Free Pay-Per-View Movies (expired) – score up to 12 PPV movies, courtesy of DISH. Considering most HD PPV flicks go for about $6, this is a solid $70 bonus.
USE CODE: PPVEXCLUSIVE
$50 Credit on Your Bill (expired) – if you're a new DISH customer, use this bonus to get an easy $50 credit on your first bill (after service activation). Simply mention this code at sign-up: LUCKY50OFF
Polk Soundbar: (expired) – get a cool audio bar to go with your new DISH programming and music channels (valued at over $200). We bought one of these a couple years back and its quality and clarity was right up there with Bose.
$200 Pre-paid Visa Card: (expired) – if you prefer cold hard cash (who doesn't?), go with this bonus and get whatever's been simmering on your wish list.
FAQ
No. They're the default pricing setup for any plan you choose. Just be sure to confirm with your customer service representative on 2nd year costs.
Nope. With DISH, the pricing before for the 2-year lock was about 40% more for the 2nd year (the first year was always highly discounted). The average of the two years was always consistently higher than the 2-yr lock pricing. And as you go into year 3 and beyond, you'll save more, on average.
^ back to top
1 Comment