DISH's Smart Home Service: A Closer Look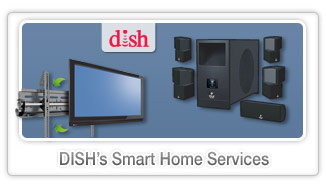 For years now, DISH has included a free professional installation as part of any new order (for up to 6 rooms). Makes sense, you want a new customer to have full and immediate access to your entire service. For most folks, that includes an outside dish mount and setup of every TV/receiver combo. But what if you have a new TV that needs to be mounted? Or would like to get your entire home (including all devices) setup for wireless? Well, that's where DISH's relatively new "Smart Home Service" comes into play. In short, it's a reasonably priced add-on service for TV installation, home audio installation, wireless setup and even a smart phone repair. Let's delve a bit deeper on what they offer and its relative value…
TV Installation (satellite or other)
Not surprisingly, this is their most requested service. It consists of two main options: a wall (with bracket included) or TV stand installation. The standard wall installation includes:
Complete install of 1 TV (any size)
1 mounting bracket, for free (DISH does not provide the TV mount itself – you'll need to acquire one by installation day)
Load testing of entire system
Cord concealment, which varies with TV model and bracket
Cost: $199
Overall, their price is within the typical range of other mounting services. Hiding of the wires tends to take at least a half hour, often more if you have a complex setup. So, considering other companies charge a healthy premium for cord concealment, it's a solid overall value.
With regard to the TV stand install, obviously this one's quite a bit easier. For $99, they'll professionally mount your TV on a stand and load/balance test the entire setup. As with the wall install, you'll need to provide your own stand/mount.
Wireless Networking
Most folks have their internet figured out before they order, but if you just moved in, switched to a new internet provider or just want to upgrade to wireless, DISH will get you setup for $99. That includes seamlessly connecting a modem (cable, DSL, etc.) and router to up to 4 wireless devices. The price includes the wireless router, so overall, a fairly good value here as well.
Sound System Installation
Particularly if you have a true surround-sound system, you know just how time-consuming setup (or remodeling) can get. Each speaker needs to seamlessly connect to the A/V base. Otherwise, sound can get easily out-of-phase as it interferes with other equipment. DISH's pro audio install goes for $99 and that includes integration of every component and device within the audio network.
Once they're done, make sure you test out the sound from your favorite spot — if both ears aren't fully engaged, ask 'em to tweak it a bit (or go grab a q-tip :).
Smart Phone Repair — Really?
This one's a bit surprising but since DISH only uses the highest-certified techs in each area, expertise tends to overlap and smartphone repair is right up there in ubiquity. From cracked glass to a crazy software glitch, if you're outside your warranty window, DISH will help ya out for $63.99 on up. All their work is backed by a 60-day warranty and they'll travel anywhere (work, home, etc).
So, Is it Worth It?
Aside from the phone repair (which you get from DISH's site directly), the other professional services are purchased and scheduled via Amazon.com. And, so far, DISH's Smart Home Service has been reviewed quite well. As of this writing, they have a 92% rating based on over 3,000 reviews. DISH is a trusted brand and that goodwill appears to be expanding into a greater number of tech-related services. And while the local handyman will almost always be cheaper, sometimes it's worth the extra bucks to get the job done right from day 1.


^ back to top