5 Things to Know Before You Order AT&T Fiber Internet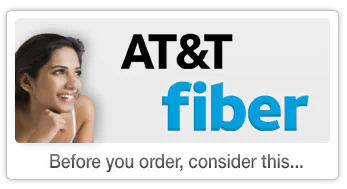 If ultra high-speed internet is a must for your home or business, AT&T Fiber is an excellent option for most folks. Boasting speeds from 300 Mbps to 5 Gbps, AT&T is still building out its fiber network in most parts of the country. If it's an option in your area, keep these five things in mind before you order AT&T Fiber internet.
1) It's a no-contract service
In-line with the recent internet trend, AT&T Fiber doesn't require an annual contract – cancelling is easy with no penalties or fees. Back in the day, most internet plans required a 12-month contract but especially with fiber, equipment and setup are relatively easy, so it's never been easier to sign up or cancel.
Speaking of equipment, the fiber compatible AT&T gateway (modem/router) is free with no monthly fee. Unlike cable or DSL internet, you can't bring your own modem but that may change in the future as fiber modems gain traction. You can, however, disable the router function from the gateway and use your own (doesn't knock any fees from your bill).
2) Five different AT&T Fiber plans available
When most people think of fiber, super fast and super expensive come to mind. However, nowadays, speeds and prices vary quite a bit and offer plenty of value over cable. For example, AT&T Fiber has plans starting at 300 Mpbs, which matches the high-end spend of cable but its price for that plan is quite a bit cheaper. In total, current plans are for 300 Mpbs, 500 Mbps, 1 Gbps, 2 Gbps and 5 Gbps. Switching to AT&T fiber qualifies you for a $100 – $150 Visa gift and, if you're still under contract with someone else, AT&T will cover any cancellation fees involved. You may also be able to get HBO Max for free, be sure to ask before you sign up. Check out all the plans below:
AT&T fiber Plan
Bonus
Price
300 Mbps
$100 gift card, cancellation fees covered
$55/mo
500 Mbps
$100 gift card, fees covered
$65/mo
1 Gbps
$150 card, fees covered
$80/mo
2 Gbps
$150 card, fees covered
$110/mo
5 Gbps
$150 card, fees covered
$180/mo
3) No price increase after 12 months
Unlike other internet providers, after you order AT&T fiber you won't see your bill increase in year 2 and beyond. AT&T is pretty committed to keeping the prices on their fiber plans competitive with other cable/fiber providers (they've actually lowered their prices a few times over the past couple years). Keep in mind you'll need to have Autopay and Paperless billing setup to save an additional $5/mo. If your bill does end up increasing after a few years, AT&T usually responds well to calls to their customer service. Ring up the retention department and ask for your bill to remain the same — there's a good chance it works out.
4) No data caps on any plans
With a lot of internet technologies, data caps are just part of the deal. If you stream a lot or just require very heavy data transmission, you end up hitting a data cap and potentially get slowed down. With the way fiber works, there are never those type of limitations. Binge watch or stay connected 24/7, you'll never be warned or throttled. In addition, your speed will never fluctuate or drop at peak times of day. You'll always get exactly the advertised bandwidth, regardless of usage or what your neighbors are up to.
5) Upload and download speeds match
For smart homes, web developers or interconnected devices, upload speed can be a big deal. With cable, satellite or DSL, upload speeds are always dramatically slower than download (usually below 5% of download). That's not a provider-related cap, it's a limitation of the technology. With fiber optic, data can be sent and received at equal velocity so you'll never have to wait on that huge file to upload or wait even a couple seconds for IOT devices to properly update the network. Time is money and fiber can save you plenty of both.
Check availability »
What does ordering AT&T Fiber Internet really cost?
Before signing up, figuring out your take-home total (all fees/charges included) can sometimes be challenging. As of 2023, AT&T is doing a much better job of being up-front with and eliminating questionable charges. In the table below, we breakdown ALL applicable charges for the 300 Mbps plan. In short, you don't pay any extra fees and the take-home total is $55/mo (after autopay discount).
Details
At sign-up
Monthly
→ Autopay & Paperless billing
must keep email linked
–
($5)
Installation fee
usually refunded
Fees
no hidden charges
–
–
Promos / other
$150 reward card (Visa)
online only
–
How do I get the $99 AT&T Fiber installation fee waived?
In most cases, when you order AT&T fiber internet online, the $99 fee gets automatically removed from your first bill. Check your total before you submit your order to confirm. If you don't see it waived, call up customer service to get it removed. If you didn't order online, you can still usually get it waived, especially if your home previously had fiber optic installed. After your service has been installed, ring up customer service and request the fee be removed. They'll do some research on your installation and address history. In most cases, you'll be good. If not, don't hesitate to escalate it to a supervisor or manager.
How to qualify for the Visa card bonus with AT&T Fiber internet
At any given time, AT&T sweetens the pot for new customers by awarding a $100 to $200 Visa gift card for signing up. Only online orders qualify so if you've already done your research and don't need a live person to guide you through sign-up, definitely go the online route. To redeem it, after you sign up, you'll receive an email with a prompt to get the gift card. Fill out the form and with in a few weeks, you'll be mailed the actual card (Visa by Bancorp Bank). You need to have an active account at the time of activation for it to work. Once active, you'll have 6 months to use the card before it expires. Lean more »
FAQ
When you order the 1 Gbps plan ($80/mo) and above you qualify for HBO Max for free.   It's a value of $15/mo so a solid perk.
With the recent policy change at AT&T internet, there's now no increase in price in the second year or thereafter.  You'll pay $65/mo, no extra fees or charges apply.  It's a month-to-month, so no cancellation fees apply either.
About the author
^ back to top