How to Watch HBO Max with DIRECTV or DISH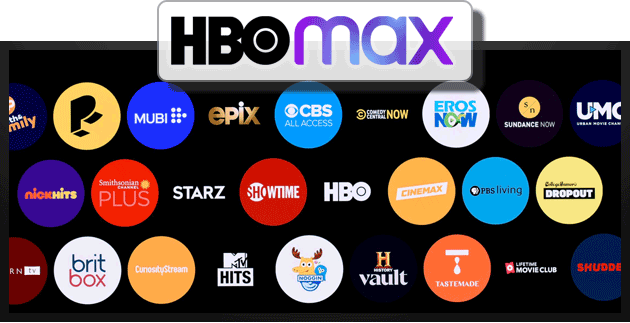 HBO Max (now known as just Max) is the latest and greatest streaming option from HBO. It gives you access to all of HBO's programming (past and current) as well as plenty of original programming that launches on a regular basis. While it's available as a standalone service for $9.99/mo, you can get it for free with DIRECTV or as a (somewhat) integrated app with DISH. Let's get into all the details….
Is HBO Max different from HBO Go?
Yep. HBO Go is the online version of the traditional HBO channel. Basically, everything broadcast on HBO can either be streamed live or accessed via HBO Go. HBO Go is included free for anyone that already subscribes to the HBO channel (as part of your satellite/cable or stand-alone HBO subscription). In contrast, HBO Max is a new service that includes the entire HBO library as well as new, exclusive content from Warner Bros. and other original programming (like Netflix does with their original series). And for those not confused enough, HBO Now is the standalone streaming service that'll eventually get phased out and replaced by HBO Max.
Established: 2020
HQ: New York, NY
Users: 76+ million
Covers: U.S., Europe, etc.
Deal: 20% off all plans
How to get HBO Max with DIRECTV
Since AT&T owns DIRECTV, HBO and Warnermedia, there are plenty of way to get HBO Max absolutely free (you may already have access). Here are a few of the more common ways:
Cable or DIRECTV subscribers (with HBO) – if you're a current cable or DIRECTV subscriber and have HBO as part of your plan, you'll almost certainly have automatic access to HBO Max. Simply sign in at hbomax.com with your provider's username and password and the system will recognize the credentials.
Digital Streaming providers – as of this writing, Apple TV, Hulu and Youtube TV all support HBO Max. Other over-the-top providers will likely be added in the near future.
HBOMax.com directly – you can always sign-up directly through the HBO Max website/app. Note that if you have a cable or satellite subscription and order thru HBO Max, you won't be able to watch HBO via your TV's program guide (you'll need a computer or device with internet access instead).
Qualifying Internet package – if you have a higher tier unlimited AT&T internet plan, HBO Max is included free, you just need to sign in as mentioned above. The specific internet plans that give you free access are: AT&T Unlimited Elite, AT&T Unlimited Plus (and Enhanced), AT&T Unlimited Choice (II and Enhanced) and AT&T Unlimited More Premium.
App stores – alternatively, you could also subscribe directly through Apple's App Store, Google Play or Samsung TV. As with all other mobile apps you purchase, keep in mind you'll have to manage your subscription/billing through the app store as well.
How to get HBO Max with DISH
The most seamless way to watch HBO Max is via the Hopper Plus add-on. It's a small device that works with your Hopper and lets you watch ALL your DISH and streaming programming in one place. To get it, you pay a one-time charge for the device (less than $30). New subscribers have the option during sign-up. Current subscribers should contact customer service.
By the way, you might've heard HBO wasn't available on DISH. Starting in 2018, there was a years-long licensing dispute that removed HBO from DISH (satellite TV, Sling TV, etc). It finally got resolved in 2022 – no restrictions or issues since. Speaking of which, on occasion, DISH runs promos to cover part of your HBO subscription, so keep an eye out (even if you're a current DISH subscriber).
What kind of HBO Max promos can I get?
As you might imagine, the kind of HBO Max specials you can get varies quite a bit… depending on the time of year, bundling options with providers, etc. Since HBO Max launched a few years back, we've seen and tracked all kind of deals – here's a quick look at some of the more memorable:
50% off for 6 months – last September, you could snag HBO Max as a standalone at half the price for six full month. No bundle or other partnership required. That's probably their best offer in a couple years.
30-day trial during Xmas – last couple Christmases, HBO gifted folks a cool month of free programming, no strings attached. Again, no bundle or other requirement. If it happens again this holiday season, we'll call it a bona fide trend.
Select free programming for all – around last August, HBO Max let subscribers and non-subscribers access certain shows for free. It was a fun way to get folks to install the app and get used to the user interface.
Can I try it out first?
Most of the time, yes. They almost always offer at least a no-strings attached 7-day free trial, then charge $14.99/mo (cancel anytime). If you sign up for a year, that rate drops down to $9.99/mo. Down the line, they'll likely also be launching an ad-supported version where rates are even lower for commercial-embedded content (like Youtube's intro ads). We gave HBO Max a whirl and in addition to the high-quality programming that HBO is known for, the inclusion of WarnerMedia's library and the original content only available on HBO Max, makes it a very attractive package, especially for movie lovers. Check it out here.


FAQ
HBO Max is no longer available as an add-on channel on Amazon Prime Video.  You can now only get it via a direct subscription (HBO Max app or website).
Yep.  Straight out of Hulu's playbook, HBO Max recently released an ad-supported version of the service.  For $9.99/mo, you'll get full access while having to put up with (mostly skippable) ads during each program.
If you have an HBO Max subscription through your cable or satellite TV provider, simply log in on the HBO Max app with those credentials.  Other than the occasional free trial, there is no current free plan with HBO Max.
^ back to top
1 Comment