Never Miss a Beat with DIRECTV Everywhere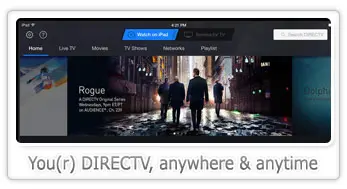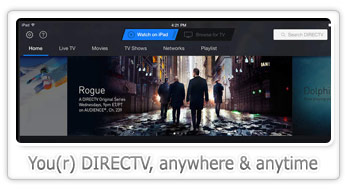 If you're on the road as much as I am, you really appreciate easy-to-use, mobile entertainment options. With DIRECTV Everywhere, subscribers can now access a growing list of live, DVR-saved and On Demand programming. Going back a few years, DISH was the first to put a stamp on remote programming access with their Sling-enabled DVRs. With the obviously huge consumer move into mobile over the past 5+ years, DIRECTV has been steadily improving their Everywhere feature (including better live streaming), all a part of the DIRECTV mobile app. Read on for all the top DIRECTV Everywhere features along with a couple downsides…
How it Works & Getting Setup
DIRECTV Everywhere is a built-in feature of DIRECTV's mobile app (grab it from the Apple or Google Play store) or via their website at direct.com/entertainment. Once open, you can browse live TV options, check out your DVR recordings or watch movies On Demand (usually for a small charge). When you make a selection, you'll be asked whether to "Watch on Phone" or Tablet. Hit yes and you're all set.
1. Watch your DVR Playlist
This feature is really more of a previously existing add-on. Powered by GenieGo (a small device you add to your home network), it lets you either stream or download from your DVR playlist (internet connection required). Downloading conveniently lets you watch your favorite shows when you're not connected to WiFi… it's great for long road trips, flights or anytime you just want to decompress while offline. Another nice perk is the app lets you add/delete/extend recordings, all while on the go. Comparing it to DISH, their ~$95 HopperGo external drive performs similar functions but also lets you connect up to 5 different devices to a private WiFi network (GenieGo allows for 1 connection at a time).
Update: as of early 2016, you will no longer be able to purchase the GenieGo as a separate device. Its functionality will eventually be integrated into the main Genie DVR box.
2. Live TV Streaming
Probably the most sought-after feature of the bunch, DIRECTV recently launched their (away from home) live TV option… and so far, it's been a pretty big success. If you're within your home's network, streaming is fairly easy to trigger… just browse under the "Live TV" tab and choose "Watch for iPad" (or phone). Your program will then start to stream on your mobile device. If you're away from home, live TV streaming requires at least a 4G wireless connection, though expect some annoying buffering/lag if you're not on reasonably fast WiFi.
With regard to the channels available, >95% of your plan's channels are stream-able within your home's wireless network. When on the road, there are about 30 channels that you won't be able to stream (due to contractual issues with those networks). Some of the more popular channels on that list are below:
Live TV Channel exclusion list (partial)
AMC, Animal Planet, Bravo, CNBC, Discovery, IFC, MLB Network, MSNBC, NFL Network, Science Channel, Sundance, SyFy, TLC, USA, etc.
So, some pretty big channels but we expect this list to slowly shrink as networks transition more programming to their own mobile apps… and TV partners.
3. On Demand Programming
If you're in the mood for blockbuster movies or shows, DIRECTV Cinema gives you access to just about all the programming available on the premium networks (HBO, Cinemax, STARZ and Encore). From the app, either select the "Movies" or "TV Shows" tab and browse by category, network and more. If you're looking for something specific, you'll probably want to use the search function for the quickest access. Once you've picked a show, it'll either let you immediately stream it (if your DIRECTV package gives you access) or prompt you to rent it for a small, one-time charge. If you decide to pony up, you'll usually have up to 48 hours to finish watching the program.
Wrapping Up
DIRECTV Everywhere, along with the DIRECTV app, have won numerous consumer awards for a reason. The entire process is incredibly seamless, intuitive and flat-out works. The fact you can now enjoy nearly all of your regular programming while away from home is both incredibly convenient and by any measure, adds a ton a value to your subscription. And comparing it to DISH's app with Sling (live TV) option, in our opinion, we currently give the slight edge to DIRECTV… mainly due to its superior interface and integration of features. Either way, mobile's the future and it appears each provider is doing their very best to meet and exceed expectations. Enjoy!


About the author
^ back to top