DISH's Free Channel Previews: How and When To Watch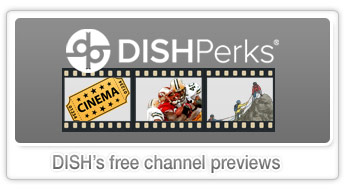 Aside from those 30-min long string of previews at the movie theater, who doesn't dig a free preview? With DISH, it's a no-risk, no-cost way to get a taste of a channel…and decide if it's worth the additional cost to add to your lineup. Most previews last for a weekend to 2 months and while active, there are almost always no restrictions – watch however and whenever you like. All of DISH's plans come with a free 3 month preview of premium movie channels (Showtime, STARZ, etc.) and during the life of your subscription, there'll be various promotional and seasonal previews as well. FYI, all these preview offers are part of DISH's customer care bonuses, called "DISH Perks." They're not widely advertised, so make sure you stay in the know to get the most out of your subscription.
Current Previews
As of publication, these are the free previews currently available on DISH. Note that some coincide with a national marketing push for that particular channel and thus are available to all subscribers. Others are a standard part of the sign-up process (which you can opt in or out of). They're grouped accordingly below…
Available to all customers
These free channel previews come and go throughout the year. Most aren't available as individual channel add-ons, so you'll either have to upgrade to the first available DISH plan that includes it or – even better – if it's a part of a themed add-on pack, add it to your account for a month or two and see how it fits.
Channel
Free Preview dates
How to get
Hallmark
(ch. 185)
10/1/23 – 10/31/23
Travel
(ch. 196)
10/1/23 – 10/31/23
Discovery Familia
(ch. 846)
10/1/23 – 10/31/23
DishLATINO Clásico
SundanceTV
(ch. 187)
10/9/23 – 11/5/23
NHL Center Ice
(ch. 475)
10/11/23 – 10/20/23
NHL Center Ice
NBA League Pass
(ch. 470)
10/24/23 – 10/30/23
NBA League Pass
Available at Sign-up
Mostly premium movie offers that last for 3 months, these will only get added to your account if you manually add them while ordering online (or via phone). Keep in mind that these WILL renew at the regular pricing if you don't cancel before the 3 months are up. So, if you want to keep the channel, do nothing. If it's not worth the extra cost, make sure to cancel early or leave yourself a reminder (it's easy to forget, been there a few times :/).
Preview
Offer
Regular Price
Showtime
8 channels free for 3 mths
$10/month
STARZ
7 channels free for 3 mths
$10/month
DISH Movie Pack
(Epix, HDNET Movies, etc)
15 channels free for 3 mths
$10/month
Dog TV
(channel for dogs)
1 channel free for 1 mth
$4.99/month
Finally, DISH is also offering military discounts (active or retired) as well as bonuses for customers over 55+. The biggest perks are a free subscription to the 9-channel Stars and Stripes Pack and one free pay-per-view movie per month. Keep that in mind as you strategize with the previews above.


^ back to top
28 Comments