DISH Specials for the Military, First-Responders and Customers over 55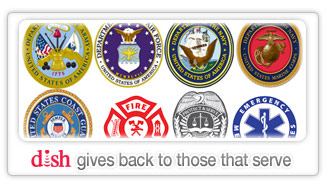 Continuing a trend among responsible companies, DISH is saluting folks that serve this great country. Right now, military, first-responders and customers over 55 get access to a brand new mix of exclusive discounts and bonuses. From a custom Stars and Stripes pack to free in-house tech support, there's a solid amount of value available. Here's a more in-depth look at each of the benefits…
DISH's Bonuses for the Military and First Responders
Stars and Stripes Pack
If you're active/retired military or a first responder, DISH created a custom add-on programming pack that's probably right up your alley. Coined the Stars and Stripes pack, it adds 9 channels to your base plan, absolutely free. The channels include:
American Heroes Channel – formerly known as the Military Channel, AHC features excellent programming about the military, warfare and the history/technology surrounding both.
Cowboy Channel – if you dig rodeos and the open Savannah, this relatively new channel (2017) is a nice change of pace.
Crime & Investigation – get your daily dose of classic crime shows like 24, The First 48, Nash Bridges, etc.
Destination America – a similar vibe to the Travel Channel, you'll get around-the-clock food, travel and leisure coverage.
Get TV – owned by Sony Pictures, they re-broadcast the popular classics like Airwolf, Rescue 911, etc.
Justice Network – if you dig crime and investigation shows, you'll get a solid brand of justice here.
REELZ – from Hollywood blockbusters to lower budget flicks, you'll get a nice mix of mainstream movies here.
Smithsonian Channel – a newer version of the National Geographic channel, Smithsonian explores nature, culture, politics and more.
STARZ Encore Westerns – one of 8 specialty STARZ Encore channels, Westerns gives you a nice cinematic complement to the Cowboy Channel above.
All together, these channels go for about $120/year so at the end of your 2-year contract you're looking at a bonus value of about $240. Year 3 and beyond still qualifies you for the pack so enjoy the Stars and Stripes pack for as long as you're a subscriber.
First pay-per-view rental free every month
While not a huge value ($7-$10/mo), it's a nice touch to include this one. For a provider like DISH, the majority of the fee for On Demand movies goes to the content creator (usually studios), so across all their armed forces/first responder subscribers there's plenty of added value here. It's also nice to have 1 free blockbuster flick in your back pocket every month… one less visit to an overpriced theater. DISH's VOD library currently houses over 20,000 Hollywood movies (new and old) and over 80,000 titles in total. So, there's a pretty good shot you'll find something to your liking, any day of the year.
DISH TV Anywhere Hopper upgrade
If you're currently deployed or just not at home a lot, the DISH Anywhere service lets you stream live or recorded TV from anywhere in the world with internet access. The feature only works with a Sling-enabled Hopper DVR so this portion of the deal automatically upgrades your DVR to a Hopper, at no extra cost. One of the nicest benefits is being able to watch live, local events (news, sports, etc), even if you're three time zones away.
Overall Value
All together, the three bonuses above add up to a value of over $530. Pretty nice combo, especially considering you can stack 'em on top of DISH's current specials.
DISH Bonuses for Customers over 55
If you've hit the cool 55, DISH has put together a solid set of bonuses for you as well. You qualify for the one free PPV movie per month above as well as the following:
DISH Protection Plan Gold – this is DISH's equipment coverage plan that lets you fix accidental problems with your DVR or other equipment. DISH already warranties against equipment failures (which are rare), this extra plan covers accidental events such as fluid leaking into your DVR (diet coke maybe?) or other things not the fault of the equipment itself… it's basically like the insurance on cell phones, just more comprehensive. The Gold plan, which also includes identity theft protection, is typically $12.99/mo. As part of this 55-year-old and up offer, it's included free for 6 months.
Free in-home visits and free equipment replacements – typically, DISH will charge you for any visits to your home that go above and beyond a regular install. in most cases, you'll also be hit with a slight fee if you need to replace out your DVR. As part of this bonus pack, both of these items are always free.
In total, the bonuses for folks over 55 add up to about $320 over the life of your 2-year contract (and likely more if you end up filing multiple claims).
For all these bonuses, any tricky fine print or exceptions?
Not really. The only real requirement, other than ID or proof you personally qualify, is that you enroll in AutoPay. As with all DISH plans, you have to sign a two-year contract but that just locks in your monthly rate for the full 24 months. Enjoy, and from all of us, thank you for your service.


FAQ
They're available the entire time you're subscribed.  After you initially qualify, you'll continue to automatically get the same specials.
Any form of official government I.D. works just fine (driver's license, state I.D., birth certificate, etc).  Simply email or fax it to DISH to get your account updated.
^ back to top
1 Comment