DISH Add-ons: Heartland Pack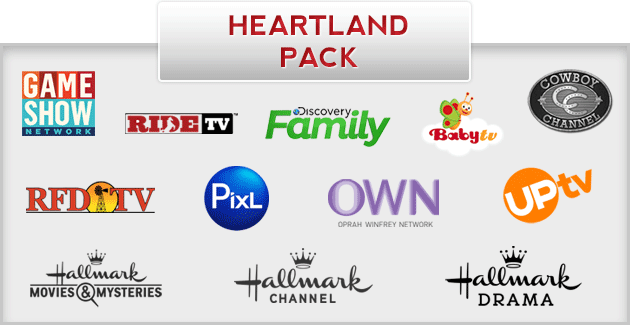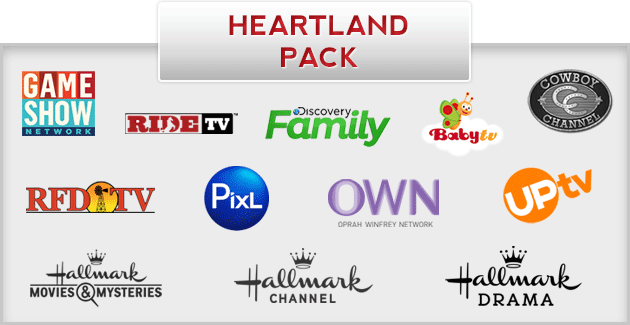 While ordering DISH online (or over the phone), you'll be given a handful of add-on channel packs to add to your primary plan. In this article, we'll go over one of the more cost-effective options, the Heartland Pack. Similar to the Outdoor Sports add-on, Heartland gives you 12 family-friendly channels for a reasonable extra $6/mo.
It includes the following: Baby TV, Cowboy Channel, Discovery Family, Game Show Network, Hallmark, Hallmark Drama, Hallmark Movies & Mysteries, OWN, UPtv, PixL,Ride TV & RFD TV. Here's a quick look at each:
Baby TV (DISH ch #823)
This channel launched in 2003 and delivers a catchy mix of nursery rhymes, animal education, number/letter games and much more. Most shows are animated with a sprinkle of live/split action programming. At least for our baby, it's high-five approved and gives his parents a good 30 minute break every time (and much longer if we'd allow it :).
Cowboy Channel (#232)
Previously the FamilyNet channel and also owned by the folks that run RFDTV (in this Heartland Pack as well), the Cowboy Channel focuses on all things rodeo and western culture. Partnered with the Professional Rodeo Cowboys Association, it broadcasts all their major events. It's really the only channel in satellite TV that covers western and cowboy themes 24/7. For that reason alone, it's filled a growing niche in this country.
Discovery Family (#179)
The sister to one of more recognizable channels in the world, Discovery Family brings you classics such as My Little Pony: Friendship is Magic, Extreme Engineering, Animaniacs and much more. Over the years, its shifted to programming to more youth/animated type stuff, and enjoyed increasing success after doing so.
Game Show Network (#116)
Around since 1994, GSN is the home to a ton of word and logic games. From the old Match Game episodes to Jeopardy and Wheel of Fortune reruns, the Game Show Network is the premier network on pay TV for game-related programming. Owned by Sony, some other classics include: What's my Line, Family Feud, Lingo and my personal favorite, Press My Luck (aka Whammy!).
Hallmark (#185)
Owned by the folks who created the Hallmark greeting cards, this parent channel of various Hallmark spinoffs originally launched in 2001. Known mainly for its family-friendly TV movies and seasonal programs (Winterfest, Spring Fever, Summer Nights, etc), Hallmark is beamed to over 70% of homes but if you don't have it in your DISH plan, the Heartland pack is one of the best way to get it and its two sister channels…
Hallmark Drama (#186)
Spun off in 2017, Hallmark Drama is the very next channel after Hallmark in DISH's program guide. As with the other Hallmark sister channels, it basically concentrates the very best programs and movies, based on theme. In this case, its all drama-packed shows such as The Waltons, Touched by an Angel, etc.
Hallmark Movies & Mysteries (#187)
Around quite a bit longer (since 2004), HMM gives you plenty of mystery, adventure and crime programming. Some are re-runs from the parent channel while others just launch straight here. A few of the classics commonly shown include: Matlock, Murder She Wrote, Magnum P.I., etc.
OWN (#189)
The Oprah Winfrey Network hit the airwaves in early 2011 and is now mostly owned by the Discovery conglomerate. While its evolved a ton of the years, nowadays its mostly known for its talk show mega blocks. So, if you dig marathons of Dr. Phil, Fix my life and other original movies, definitely give this channel a try.
UPtv (#188)
The original focus of UPtv was to UPlift through gospel and Christian music. Over the years, programming was created to match (including music videos). More recently, they've acquired the rights to a bunch of older popular shows like Home Improvement, Whose Line is it Anyway, Little House on the Prairie, etc…basically, morally centered programming.
PixL (#388)
PixL has been around since 2010 and is sort of a smaller-scale version of Hallmark: family-friendly programming that also has a slight religious slant. Their slogan is "Bringing Families Together, One Move at a Time" and their movies and miniseries definitely attempt to do just that.
Great American Living (#165)
A mix of the former channels GAC Living and Ride TV, Great American Living broadens its scope of content while still focusing on the day-to-day travails of folks living in the American South. A mix of scripted and reality programming, you'll get your fill of ranches, rodeos and (horse) racing.
Ride TV (#248)
(replaced by Great American Living)
If you dig horseback riding (or just watching it), Ride TV should be right up your alley. Based out of Texas, they do a great job of applying the reality genre to equestrian riders, sports, vets and more. Heartland is one of the few places you can get this channel, so definitely jump on it if you know your Stable Fables from Ridiculous Ranches.
RFD TV (#231)
An acronym for Rural Free Delivery (reference to the USPS), this channel gives you plenty of chat and discussion about rural, agricultural and political topics that impact the heartland of the country. So, if you're into dancing the polka, Don Imus or how the weather will impact the upcoming corn harvest, you know where to tune in.


^ back to top