DISH Add-ons: Multi-Sport Pack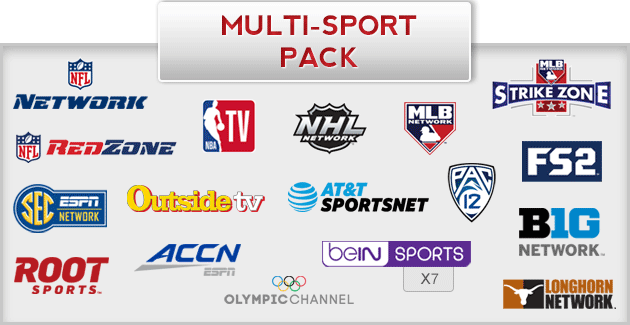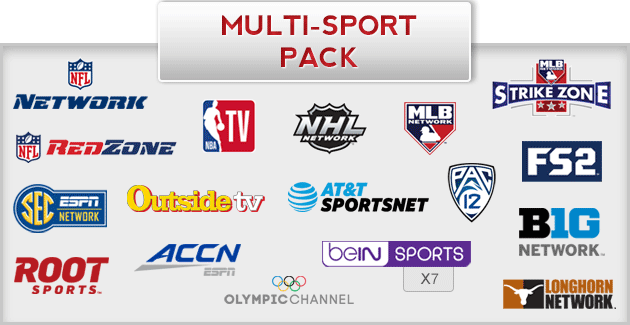 Continuing our profile of the different channel add-ons available on DISH (see Heartland for the previous), the Multi-Sport Pack gives you a whopping 29 channels for $13/mo. Some of these may already be included in your core plan, so this add-on is best geared towards folks with America's Top 120 and below or sports lovers who want EVERY sports channel in DISH's library.
Those 29 channels break down pretty evenly between college, pro and regional channels. For example, you'll get the PAC 12, BIG10 and SEC Networks (regardless of your zip code), MLB/NFL Network and 7 beIN channels. Here's a quick look at the entire list, broken up by sport/category:
Football on DISH Network
NFL Network (Ch. #154)
Since 2003, the flagship for in-depth NFL coverage, 24-7, 365 days a year. From pre- and post-game analysis to full game broadcasts every Thursday night, it's a great destination for NFL fans, even during the off-season. For those looking to ramp up their NFL IQ before the season starts, the NFL Network broadcasts all 65 preseason games. They also cover every dash, pass, catch and rep at the NFL combine, usually in late February.
NFL Redzone (#155)
During the NFL season (Sept-Jan), the Redzone gives you (live) look-ins of ALL action inside the 20-yard line. Basically, you'll see any/all scoring plays as they happen or seconds/minutes later. It's a mainstay for fantasy footballers and *cough* gamblers. Keep in mind DISH doesn't have the right to the NFL SUNDAY TICKET so this is your best bet for close to real-time coverage of games not featured nationally on CBS, FOX, NFL, ESPN or the NFL Network.
Bottom line: DISH's biggest sports disadvantage vs DIRECTV is the lack of the SUNDAY TICKET. Has been for years. DIRECTV's contract with the NFL is up soon, though, and there are rumors licensing could open up to other providers, including perhaps DISH.
Baseball on DISH Network
MLB Network (#152)
The home for round-the-clock coverage of major league baseball. They tend to have the best MLB analysts around (usually better than ESPN's revolving pack) and do an excellent job of covering the growing world of analytics. MLB Now and Intentional Talk are two of their more popular original programs, shown every day. Overall, highly recommend the channel for MLB and fantasy baseball fans alike.
MLB Strike Zone (#153)
This is like NFL Redzone, taking you around all the live games, especially during big plays or critical at-bats. On Tuesday and Friday nights, you'll get even deeper coverage and with no commercials to spoil the drama.
MLB Network Alternate (#478)
A spillover channel, whenever a back-up or secondary game goes outside its regular broadcast time, it'll often get shown here live. They also use for a variety of replay or extra coverage.
Bottom line: you'll find just as much baseball on DISH as with any other provider. And if you purchase the MLB Extra Innings package DISH's program guide lets you watch multiple games in one pretty cool split-screen view. If you're low on time, managing and playback of recorded games works quite well too.
Basketball on DISH Network
NBA TV (#156)
Launched way back in 1999, they broadcast a minimum of 90 regular season games a year. Keep in mind as with the NFL and MLB's setup, your local games will be blacked out on NBA TV (have to watch 'em via your local feed/broadcasters). NBA Gametime Live is their primary news and highlight show, airing every night and re-broadcast multiple times until the next day's action.
Bottom line: NBA TV is the only 100% dedicated NBA channel on DISH. Of course, your main source for regular season NBA action is usually TNT, ESPN and during the playoffs, ABC as well. There really isn't any extra NBA coverage with DIRECTV, the previous list of channels cover just about all the games (and, of course, with your local coverage).
Hockey on DISH Network
NHL Network (#157)
Around since 2007, the NHL Network is the official news and broadcast hub for the National Hockey League on TV. It doesn't have a ton of original news and analysis (like the big 3 above), but is a solid destination for live NHL, minor league and college hockey games. NHL Tonight brings you a recap of all the day's games during the season (Jan-July).
College sports on DISH Network
SEC Network, PAC 12 Network, BIG 10 Network, ACC Network, Longhorn Network
Of course, football, basketball and baseball get all the college headlines, but if you're into college sports, each of these networks do an excellent job of covering a wide variety of matches. The PAC 12 Network is probably the most polished but you can't go wrong with any of them, especially for locals or alums. When each of these niche channels first launched, they were very highly coveted and priced to match so getting all of them in this add-on plan gives it a bunch more value.
Other
beIN Sports (x7)
beIN is the worldwide leader in international sports coverage. In this DISH Multi-Sport plan, you get 7 total beIN networks. So, if you love your international soccer, rugby, cricket, motorsports, handball, tennis and more, you may not get much sleep with 7 channels to choose from and a staggered time zone. Their bigger events include: World Cup and European league soccer, European rugby, Pakistani/Indian cricket and much much more.
AT&T Sportsnet (x2)
When AT&T acquired ROOT Sports, they rebranded and AT&T SportsNet Pittsburgh (#428) and AT&T SportsNet Rocky Mountain (#414) were born. They're the local home of all Pittsburgh and Colorado area pro teams (MLB: Pirates, Rockies; NBA: Utah Jazz; NHL: Penguins, Vegas Golden Knights). They also cover a bunch of local college and high school ball. The broadcast teams and production value are always pretty solid.
Root Sports Northwest (#426)
This is one of the Root channels that didn't get rebranded. You'll get the Portland Trail Blazers, Seattle Mariners, Seattle Seahawks, Seattle Kraken (NHL) and a bunch more. The Mariners own a majority share of the channel, thus the Root name was kept. AT&T has a minority stake but produces the shows just as the rest of the SportsNet family.
Outside TV (#390)
Also a part of the Outdoor pack ($4/mo), Outside TV gives you non-stop fishing, hunting and other outdoor fun. It's a nice toss-in and change-of-pace channel for this Multi-Sport pack.
Olympic Channel (#389)
Leading up to the Olympics, this channel gives you in-depth coverage of Team USA and their road to the opening ceremonies. Via documentaries, qualifying and other trials, it's a very cool way of learning about the athletes before the actual games start. Tune in anytime, day or night, it's a dedicated channel just as committed as the athletes.
Wrapping up
Whew. That's a LOT of channels. 29 total. For $13 a month, even if just half row your boat, this is cool add-on package to have. The nice part is you can add or remove it at anytime. For example, we added it for extra coverage during baseball season then removed it in November. Well worth it for us and if you have the time, it's a nice way to get introduced to other sports and cultures from all over the world.


About the author
^ back to top